Jonathan Dorthe has a Master's in architecture, and works part time in an architecture firm in Montreal. He spends the other half of his time in the industrial design on his own projects.
1. If you made headline news what would the title be?
Atelier-D Defines Contemporary Craftsmanship!
2. What would be the typical elements that define your work?
I am inspired by techniques in traditional crafts, so that comes out in my work. I always try to work with new materials and try to incorporate graphic elements in my designs. In the case of the knit cushions, one side is knit by my mother with traditional patterns using a neutral grey wool, and the other side is a high-end colourful felt made by a Danish company. I like to work with these contrasts. In the Lath Lamps, I use new technologies to cut and assemble thin wood laths and a traditional leather band to hold the pieces together. I think the end result represents well the 'contemporary craftsmanship' character that I'm trying to define.
3. Outline a typical brainstorming moment?
I don't really 'brainstorm'. The projects I create are the result of an accumulation of different ideas and are inspired by my needs to furnish my apartment! I get inspired when I travel. I like to take the train or the plane and just look outside for hours, looking at the patterns, getting inspired by the mix of colours, watching the light passing through threes and creating interesting shadows. I just came back from Israel and Turkey and I was inspired by Islamic art, such intriguing patterns! I have a sketchbook full of ideas and my creative process works in layers: at one point the shapes and patterns come together to create something functional. I try to think of contrasting materials, or mixing a pattern and a material. For example the iPod case made of leather with a laser-etched herringbone pattern.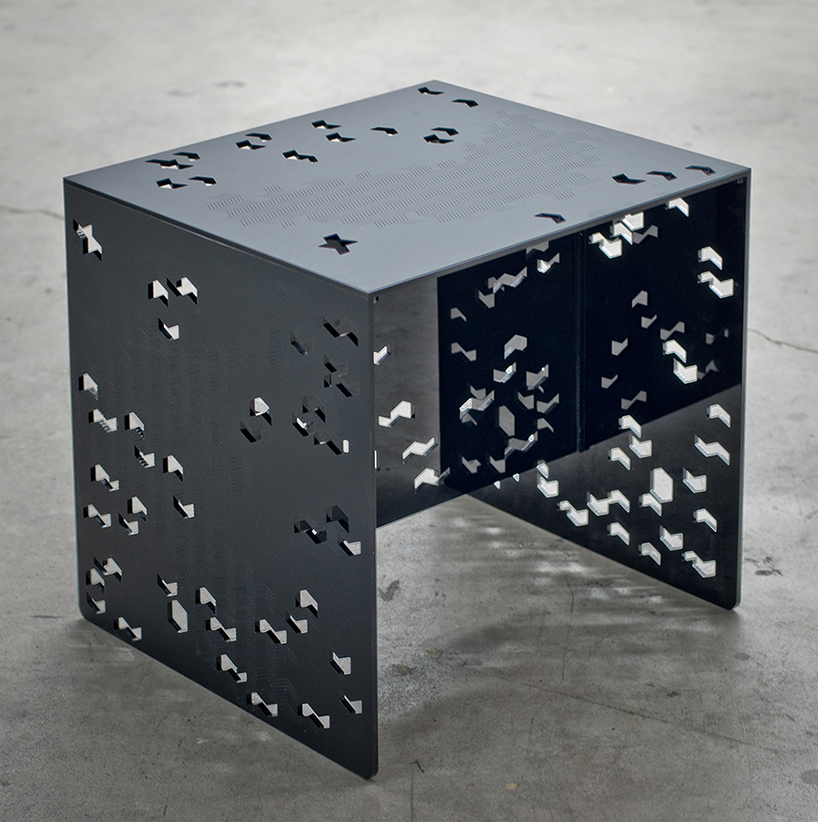 4. Who would be the designer you most strive to emulate career wise?
I studied in architecture, and one of my inspirations is the minimalist Swiss architecture movement, for the clarity of the shapes and honest use of materials. In the object world I really like the work of the Bouroullec brothers; I like their passion for materials, their use of colour and their wide range of products. I like the ''studio'' aspect of their work, lots of sketches, models and prototypes. To see them work is really inspiring.
5. What's the work you are most proud of and why?
What I am most proud of is having a series of objects that are coherent both on their own and as part of a bigger collection. I am fortunate to have tools and technology available to me, and so I have had been able to make limited edition objects that have grown into a collection over the past few years.
6. What do you find most irritating about your industry?
What bothers me is the fact that most of the people don't recognise the time, energy and effort it takes to create something, and that it's so hard to make a living out of this passion. Its easy to take good pictures and post them on blogs, but it's hard to convince people to pay a fair amount of money to buy your designs.
7. Does your underwear reflect your designer cool?
Well, let's say they are black!
—
More info www.argocollective.com/atelier-d
—