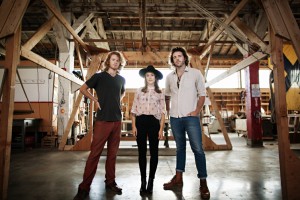 A three piece band, utilising all three vocals – Devin Mauch, Calin Peters and Martin Earley make up the trio known as The Ballroom Thieves. Hailing from Boston they've recently released their début album 'A Wolf in the Doorway' an authentic expedition into folk, intertwined with influences of gospel, a touch of melancholy and some thoughtful harmonious sounds.
1. How did you get started?
Devin and I met in college, but the band didn't really become a career endeavour until I lost my job as a social media manager for a big online retailer. Unemployment and a severance package helped me feel somewhat comfortable financially, so we started taking music a lot more seriously. Callie joined about two years ago, after Devin saw her play an open mic with her previous band, and we've been putting up with each other ever since.
2. What ingredients do you need to mix together to produce the recipe of your sound?
You'll need a cello, a guitar, a lot of unorthodox percussion and 3 heaped spoons full of vocal harmony. Add whiskey to taste.
3. Did your first gig make you hungry for more?
Not particularly – we played a 30 minute set for a handful of close friends at a small Irish bar in Boston and I remember it being over so quickly. The idea of your first time is always a bit more magical than the actual event itself, I think, but the hunger tends to develop quickly, and in my case it hasn't subsided since.
4. What's the biggest 'cock up' to date?
I can only assume that 'cock up' means 'mistake,' so I'd have to say that our biggest cock up was not getting the AC in our van fixed before journeying through the deep South last summer. I'm sweating profusely just thinking about it. I was also once asked what I would choose to excel in if I could choose anything other than music. I panicked and answered that I would want to be the world's best beer drinker. My girlfriend has never let me live that down. I'd change my answer to that if I ever got a chance to redeem myself.
5. What is it that inspires you to make your music/sound?
A great variety of things. We're inspired by the people we surround ourselves with, the people we meet on the road, and the places we're fortunate enough to visit. And of course the bands we're able to call our friends: Darlingside, Tall Heights, the Ghost of Paul Revere and many more. Their music helps us push the envelope when writing new material, and we've formed a tight-knit community of friends as a result.
6. What would be the icing on the cake?
I think we're still mixing the batter so it's tough to think that far ahead, but I'd say forming an epic super group with Celine Dion, Phil Collins and Yo-Yo Ma and then touring the world in a souped-up Air-stream driven by our respective parents. That would be fantastic.
7. How will you be remembered? (what will make you vintage?)
I hope we'll be remembered as kind people who had a lasting, positive impact on the world due to the doors our music helped us open for ourselves and others. That's about as vintage as it gets, I think.
8. Describe your music as if it were a fine wine?
Big, rich and full bodied in the mouth with notes of toffee, gentle vanilla and some molasses, giving a sensation of slow, deliberate flow across the palate. It's a bourbon.
9. Digestive! If you weren't doing what you are doing now, what would make you happy?
I'd like to own a small organic farm in Maine and help influence the local economy in a positive manner, while finding ways to educate children (and adults) on the importance of healthy living.
10. AfterMint! Does your musical style influence your underwear?
I think my underwear influences our musical style. I'll let you do with that what you will.
—
More info www.ballroomthieves.com
—