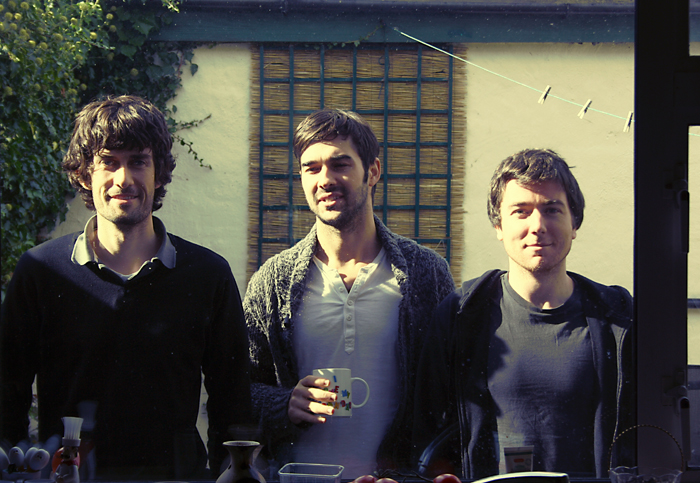 This Dublin three-piece of Gary McFarlane (guitar, vocals), Adam Browne (bass) and Will Purtill (drums) were formed in 2007, having converted a shed into a recording space where they began writing and recording. Their debut album 'Between Buildings, Toward The Sea' was recorded in April 2012 with Brian Deck (Califone, Modest Mouse, Iron and Wine) in Chicago, and later released on Epitonic.
1. How did you get started?
My lovely mother agreed to buy me a 60 quid acoustic guitar for my 14th birthday. I quickly became addicted never putting the thing down. After a little while I was writing my own songs.
2. What ingredients do you need to mix together to produce the recipe of your sound?
Red Wine, Reverb, Cheap Corn Snacks and Drums.
3. Did your first gig make you hungry for more?
I can't really remember it now to be honest. It seems like an age ago. I do recall not being nervous and then becoming kind of uneasy because I wasn't nervous. It was a confusing time.
4. What's the biggest 'cock up' to date?
Forgetting to text Thom Yorke back when he wanted to join the band.
5. What is it that inspires you to make your music/sound?
All kinds of things really , the feeling you get when writing, bandmates, friends, family, oh and Neil Young. Mostly Neil Young.
6. What would be the icing on the cake?
I'm not a massive fan of cake, and sadly the proverbial icing is usually unattainable
7. How will you be remembered? (what will make you vintage?)
That's out of my hands thankfully, people can be very selective with their memories.
8. Describe your music as if it were a fine wine.
A deep rich red, probably a Cabernet Sauvginon, still very affordable though. Actually it would probably be cheap and nasty.
9. Digestive! If you weren't doing what you are doing now, what would make you happy?
I'd be happy by the sea somewhere, writing mediocre fiction and eating fish.
10. AfterMint! Does your musical style influence your underwear?
I'm currently under strict orders to not mention my underwear to the press. It's going through the courts at the moment. My lawyer is seeking a super injunction. Sorry!
—
More info www.autumnowls.com