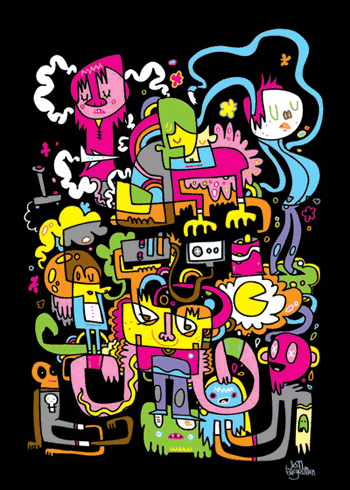 Jon Burgerman resides currently in New York but he's originally an export from Nottingham, England. Highly respected he has exhibited internationally and has had work shown alongside contemporary artists from the likes of Banksy through to satirical illustrator Gerald Scarfe and fashion designer Vivienne Westwood. He also has works included in permanent collections at The Victoria and Albert Museum and The Science Museum both in London.
He has a reputation for unique emotive characters and colourful artworks. Utilising across the board mediums work has been produced in form such as drawing, inks, paint and on to large scale murals and even toy design. Outside the arts field he has won numerous awards for commercial projects and worked with some of the best known global brands. Recently he's been working collaboratively alongside Jim Avignon breeching the music side of the arts with the release of a single. The Duo named Anxieteam produce "electronic sounds and fumbled strumming on the ukulele" and be informed, as they say about their live gigs, "Visitors to Anxieteam gigs can expect masked dancers, live painting, salad-making workshops, biscuit giveaways and digital portrait making."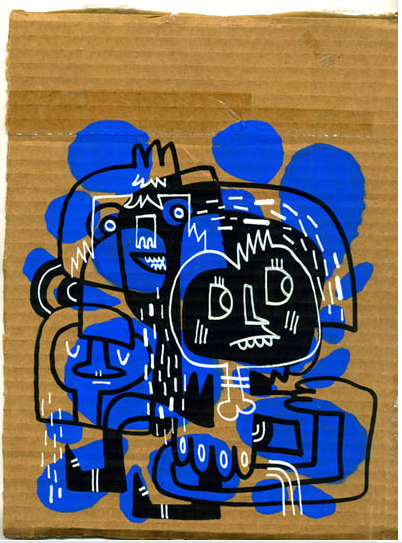 1. What would you say is the most important theme in your work?
Doing everything I can to avoid working. I don't really know what I'm doing anymore. I guess if anything I've been overcome with a terrifying sense of honesty. I don't know what to do or how to do it. Or how not do it. Maybe something will happen. To further instigate this I clicked and dragged my old world into the recycle bin and have recently moved to New York. The new theme is new. It's shiny and frost covered. It glints in the dazzling sun, and in its reflection I can see a smiling face.
2. What's most inspiring to your working process?
I take pleasure from simple things and that sense of something is working. I like all the things that everybody else likes, such as art and music and salads and photographs of defecating animals. Today a pigeon did a whoopsy outside of my kitchen window. I asked, how would you like it if I came round to your house and did that? But he just starred backed at me and carried on as if he hadn't understood what I'd said.
3. Have you any strange talents that influence the work you produce or the way you produce it?
I'm probably just a little strange. I scrape by on meagre talents as it is, so fortifying them further with strangeness is likely to be beyond my current remit.
4. Which artist of the past would you resurrect to collaborate with and why?
Syd Barrett because I really like his songs and the simple, other worldly imagery he illustrates within them. He had a cool mind, until he sort of lost it.
5. Do you think your work is understood or misinterpreted and why?
Yes, sometimes I don't think people look beyond the surface of my work. They see flat colours and characters and assume I'm into Japanese comics and hiphop music.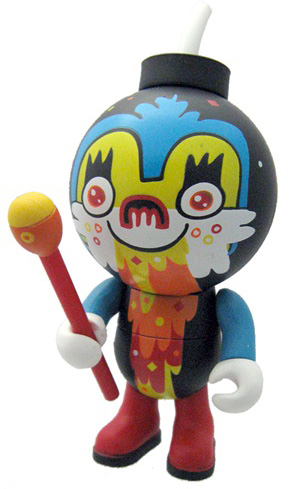 6. If you could decorate one place in the world what would it be and how would you do it?
I'd like to draw all over Buckingham Palace. I'd use a Posca pen encrusted with diamonds.
7. What to date has been your 'cherry on the cake' moment and what was it that got you there?
I ate a cherry that was on a cake at last year's Cake Britain exhibition. That was a fun show where all the artworks were made out of cake, sort of a dream come true!
8. What we ask everyone! Does your artistic style influence your underwear?
Sort of – when I was in Hamburg I stocked up on Lousy Livin' Company underoos. I love Steffan Marx's work and it's nice to nestle my furry bottom amongst it.
—
More info www.jonburgerman.com
—
Artwork courtesy © Jon Burgerman