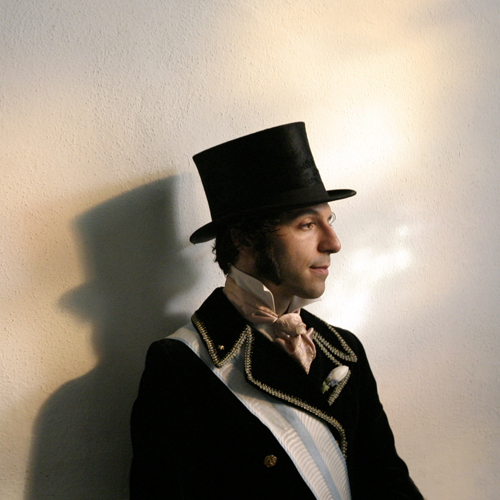 Alfred Darlington isn't your average cookie-cutter musician. From how he looks (early Victorian Dandism), to how he makes music, to how he expresses himself and views the world, his is a very individual, a 'bespoke' outlook.
Alfred was born in Santa Monica in 1977 to an artist mother and psychologist father. Musical from very early on, as a child he was classically and jazz-trained in a number of instruments, but his interests were broad and varied – less a prodigy than a renaissance boy whose obsessions ranged from Greek legend to the mountains of Wales. As a 15 year old he finally persuaded his parents to take him to the Principality. Whilst in a YMCA in London he flipped the radio dial, found a pirate radio station and taped some UK rave and hardcore. "It was my first 'Eureka!' moment in music", he says.
Back in the US he joined local rock bands, jazz bands and ska bands, which he enjoyed but felt limited by, too. At home he was listening to Warp, Ninja and your harder electronic stuff. He started DJing out the more leftfield side of drum and bass and making his own rudimentary productions. They were meant to be drum & bass but they kept turning out different and from his outsider's experiments his own style was born. He chose the name Daedelus as he had a childhood obsession with invention, and what was he doing, after all, if not tinkering and fiddling and experimenting like the 'gentleman inventors' of old?
In 1999 he started DJing on Dublab.com for his 'Entropy Sessions' and began dropping in his own early demo productions. Carlos Nino (of ammoncontact) had the show after him and usually pushed Alfred out the studio as quickly as possible as he was not so into Daedelus' confrontational DJ style, but when he heard a tranquil Daedelus production he took, in typical Nino style, Daedelus under his considerable wing around the LA scene. Nino placed Daedelus tracks on two influential compilations and then persuaded Plug Research to release his debut album, 'Invention' in 2002, Remixers included Madlib, who later took Daedelus' accordion parts and used them on the Madvillain record, closely followed by his 'The Household' EP on Prefuse 73's Eastern Developments label.
In 2003, he was booked to play a show in San Diego by Brian Crabtree and Peter Siegerstrong and they asked him to test out an early prototype of the Monome box. "It's a Non-traditional electronic instrument" Daedelus explains. "Basically it allows for massive improvisation." Since then Daedelus has continued to use this revolutionary box, bringing much genuine liveness to the sometimes static world of performed electronic/dance music.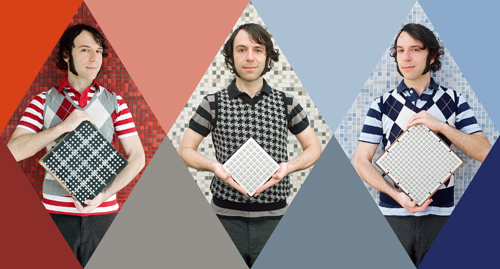 In 2003 he did 'The Weather' album with Busdriver and Radioinactive and the remix album 'Rethinking the Weather' on Mush records (home of cLOUDDEAD, also on Big Dada/Ninja Tune). 2004 saw the release of 'Of Snowdonia' on Plug Research, the album with which Daedelus says he first "felt true artistic confidence, finding a true voice. I was finally in the right zone."
There was certainly no let up in his creativity. Also in 2004 he released the concept album 'A Gent Agent' on tiny German label Laboratory Instinct. The 2005 album 'Exquisite Corpse' on Mush album featured the likes of TTC, Mike Ladd, MF Doom. Ninja signed Daedelus for UK/Europe (a relationship which has reached its full expression on 'Love To Make Music To', his first album for the label worldwide and put together with the help of their team). In 2006 'Denies the Days Demise' came out, a record showcasing his love of Brazilian music. Last year he released his first live album, 'Live At the Low End Theory', and 'The Fairweather Friends EP'. Later this year will see the release of his collaboration with his wife, Laura Darling, as Long Lost!
And while his reputation has grown internationally, his place in the LA scene has also solidified. The musician that many of the hottest names in the city turn to for everything from bass clarinet licks to advice on obscure electronics, Daedelus has worked extensively with Taz from Sa-Ra, the pair of them opening for the likes of DJ Assault, Justice and Two Live Crew as well as appearing in Erykah Badu's most recent video.
The album 'Love To Make Music To', Daedelus said the album is "the imaginary memory of a time that never was! It's my drug/love record, harking back to that time in the YMCA in London, when I first heard rave…"
This was followed up in 2010 by 'Righteous Fists of Harmony' on Brainfeeder.
1. How did you get started?
(see above!)
2. What important ingredients do you mix together to produce the recipe of your sound?
Equal parts Soundtracks and Rave-ups, dashes of Electronics, pinch of HipHop and finally lots and lots of Victoriana thru the lens of empty glass bottoms.
3. Did your first gig make you hungry for more?
It hasn't ended, and why continue unless it is an addiction? For me it is quite an unstoppable force. Really I get the most pleasure from live performance in presenting my sounds in an improvised fashion, it is new to me and the audience ever event.
4. What's the biggest 'cock up' to date?
I've had my share of boners (look it up it doesn't mean just the perverse), but mostly it is crashed computers, hard-drives, cars, you name it, it'll crash someday…
5. What is it that inspires you to make your music/sound?
Lives met in happenstance and pure luck. Often it is quiet moments of some tragic joy that gives the most.
6. What would be the 'icing on the cake'?
The chance to share a good meal (often in sound form) with new friends (sometimes to never meet again).
7. How will you be remembered? (what will make you vintage?)
I want them to say I left an exquisite corpse!
8. Describe your music as if it were a fine wine.
I can only state a wish… but perhaps the nose is of dusty vinyl and the body strong like a stout red then it finishes by tickling the tongue. Or perhaps it just tastes like sweet mango Lassi?
9. AfterMint! Does your musical style influence your underwear?
Do you mean my vintage long-johns? or perhaps my paisley print nightgowns?
10. Digestive! What do you know about Luxembourg?
It is time to eat good food! Otherwise I know nothing and have quite an appetite to learn more.
—
More info: www.myspace.com/daedelusdarling
2nd image © Laura Darling
–