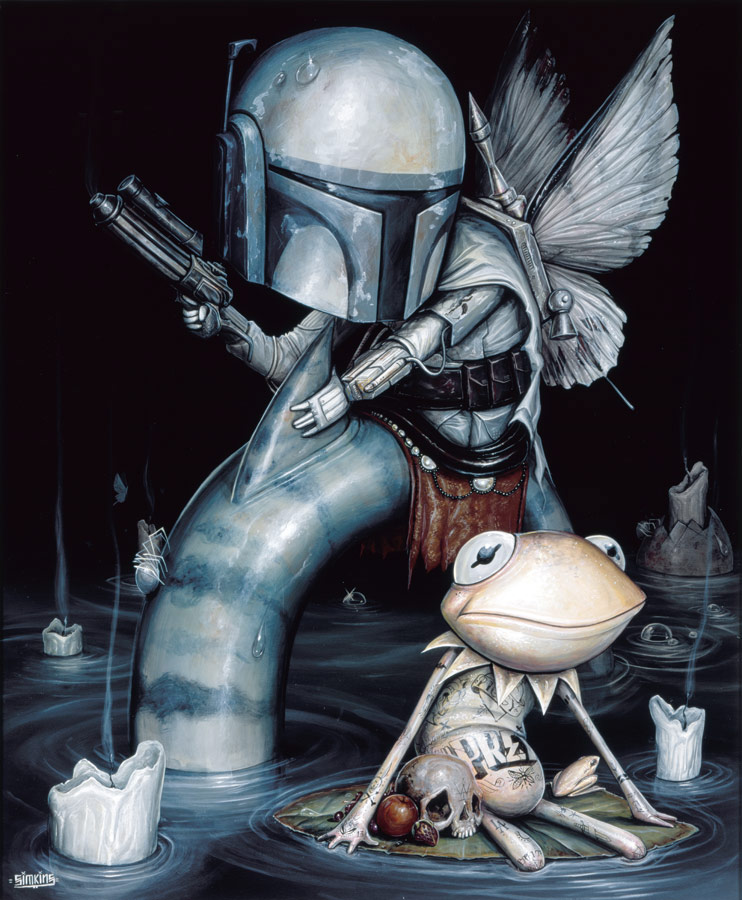 Greg Simkins, or 'Craola' from his early graffiti days, confesses to having an over active imagination. As he states, "it has always made sense to me that any artwork I develop should be composed of these vivid thoughts". Inspirationally driven by childhood obsessions, nestled in the likes of Disney cartoons, Lorne Greens' New Wilderness and books such as Watership Down and The Phantom Tollbooth. It is from this fodder that Greg Simkins partakes in the fine art of creating rabbit holes!
"We will never see snow covered coral reefs inhabited by butterflies alongside moray eels. Deer will not gallop beside killer whales and birds will never share their nests with a family of jellyfish."
Discovering his 'art buzz' from as early on as 3 years old, it was graffiti art that cemented the passion. Moreover it gave him the impulse to further create and the confidence to 'go big' with work. Greg got a Bachelors Degree in Studio Art (California State University, Long Beach) in 1999 before starting work as an illustrator at a number of clothing companies. He went on to spend some time working with video games company Treyarch/Activision before pursuing a career as a full-time artist in 2005.
Since then a number of sell-out shows and a growing reputation for weaving the fantastical with the quality of an old master! Greg graces INDIGITS with the A8…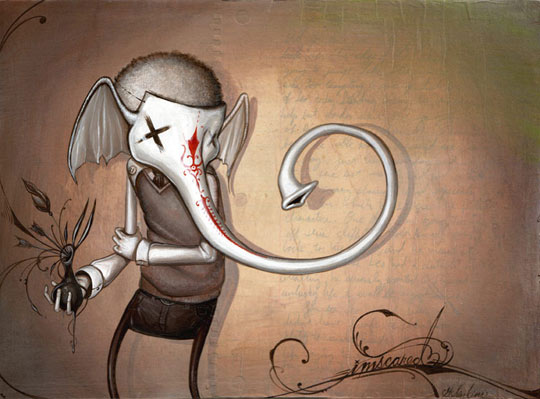 1. What would you say is the most important theme in your work?
That's tough, there is an underlying story threading its way through most of my work having to do with loss and redemption. Refuge and safety in dangerous places.
2. What's most inspiring to your working process?
Being out and about, in parks, at the beach, anywhere that the sky is unobstructed by powerlines and buildings, all of these with my small sketchbook in hand. It barely leaves my side and I am constantly keeping notes and rough sketches. Listening to audio boooks, music and podcasts spark a lot of ideas as well
3. Have you any strange talents that influence the work you produce or the way you produce it?
I don't think so. I am pretty normal I assume. I'd say I am very patient when working on a piece. It kind of calms me to be able to sit for long hours noodling away on a painting.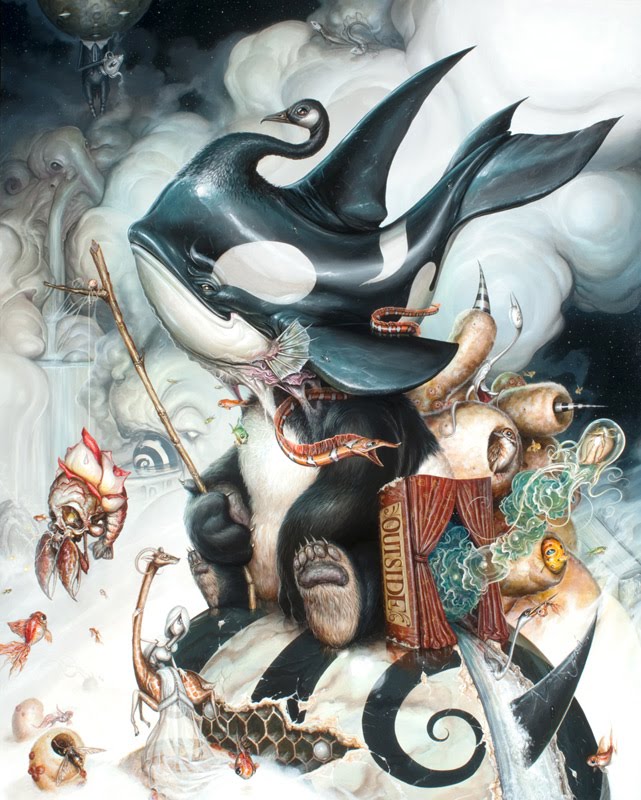 4. Which artist of the past would you resurrect to collaborate with and why?
Dr. Seuss of course. Man that guy had a great imagination.
5. Do you think your work is understood or misinterpreted and why?
That's 50/50/ I've had some people totally interpret it pretty close to what I am trying to do, while others miss it completely and assume so wild meanings. I am up for whatever people think about my work though and enjoy hearing some of the things they come up with.
6. If you could decorate one place in the world what would it be and how would you do it?
in the world? That's too broad. It would be fun to have my own land at Disneyland, or a section of a casino like the Wynn, or take over a portion of Central Park, or decorate rooftops in LA as cloud watching lounges.
7. What to date has been your 'cherry on the cake' moment and what was it that got you there?
I try no to focus on things like that with my art, it is hard, but I have this fear that if I get to stoked on one moment than that is where my growth ends. I always try to establish new goals and aim for them. That being said, finishing large painting like 'The Pearl Thief', 'In Sleep' and 'Finding Home' are great moments; butgetting married and my son's birth outnumber everything.
8. What we ask everyone! Does your artistic style influence your underwear?
of course it does.
—
More info www.imscared.com
–
all artwork supplied courtesy of © Greg 'Craola' Simkins