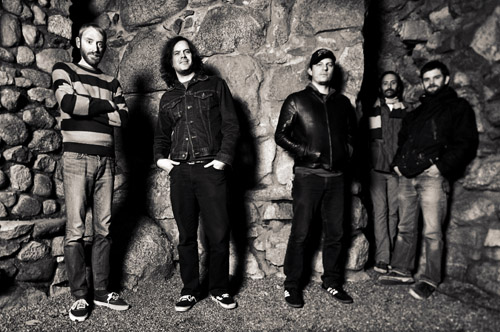 Grand Archives hail from Seattle, the city synonymously twinned with rain and Tom Hanks-Meg Ryan rom com's. Early on, Pitchfork added track 'Sleepdriving' to a playlist and the band in return received considerable exposure. This was closely followed up by a support gig with Modest Mouse and signing with Sub Pop Records for the release of their self titled debut album.
The collaboration was one of a natural progression, as was the sound – but fining tuning the songs, that took some time. They worked with producer Ben Kerstenin in three different studios over the summer of 2007. "We wanted to mess around with as many unorthodox instruments and sounds as we could," says Mat. Across the album's eleven tracks, you'll hear trombone and Flugelhorn, violin and pedal steel guitar – and some timbres trickier to identify. Slide guitars were rubbed with violin bows, cellos plucked to create bass lines. "At one point, we put a mic on a ukulele and played it through every effects pedal in the place."
This willingness to improvise even gave birth to a new song in the studio, the instrumental 'Breezy No Breezy,' a curious amalgamation of rock, jazz, and dub reggae. "That one was written and recorded in about an hour," Brooke remembers, smiling. "It was the last day of recording, and we had a little extra time left." They took all their favourite oddball sounds featured throughout the making of The Grand Archives, and condensed their charms into a single track.
Grand Archives – Miniature Birds by subpop
The band brings together old pals – in that they all knew each other – singer/guitarist Mat Brooke, [previously– Band of Horses, Carissa's Wierd], drummer Curtis Hall [The Jeunes], bassist Jeff Montano [The New Mexicans], and guitarist/keyboard player Ron Lewis [Ghost Stories] and finally guitarist Thomas Wright – who graciously answered the Poll13 under the influence of absinthe, which may explain the obsession with P!nk…
1. The album I live my life by…
P!nk 'I'm coming out'
2. The song I wish I had written…
Allstate Commercial Jingle 'We Bring Good Things to Life'
3. The song I'm glad I didn't write…
Kiss 'Beth'
4. If I could stalk one celebrity rock star…
Michael Jackson
5. If I could resurrect one rock star it would be…
John Lennon
6. Celebrity Death Match Opponent…
Mickey Rouke
7. My best gig ever…
Working at a gas station
8. If I could get one band to cover one song…
Grateful Dead to cover P!nk's 'I'm Coming Out'
9. If I could wipe a music genre off the face of the earth…
Indie Rock
10. The first record I ever bought…
Teenage Mutant Ninja Turtles Soundtrack
11. On my ipod/mp3/walkman device right now…
>no batteries<
12. Superpower I wish I had…
The ability to stop crying!
13. Does your musical style influence your underwear?
If I wore any, no!
—
More info www.grandarchives.com