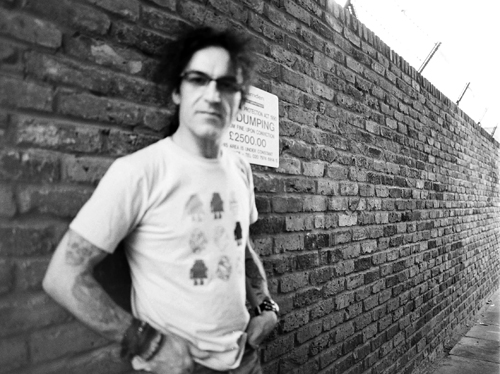 Merv Pepler and Joie Hinton formed Eat Static in 1989 as a creative outlet for the diverse range of electronic music they were producing. Having met in 'space rock outfit' Ozric Tentacles both Merv and Joie were drawn to the electronic sounds of the then early days of the 'rave' scene. Legitimately claiming to be one of the UK's first live techno outfits they always intended on being just that – a live act! If like me you were busting fashionable grooves in them days you would have caught them at the Mega Dog parties, as well as the early incarnations of Universe and Tribal Gathering playing alongside other well established acts such as Orbital, Underworld and Aphex Twin, to namedrop but a few.
In 2008 Joie Hinton left the band leaving Pepler to continue the legacy as a solo project. Merv graces INDIGITS with a response to the all important Q10.
1. How did you get started?
My fire's were lit when I used to spend school lunchtimes in the music room playing around on a Korg MS 10..loads of silly wobbling sounds not unlike the early Dr Who episodes! Eat Static started after I met Joie and we discovered we shared the same passion for silly synth noises and acid..
2. What ingredients do you need to mix together to produce the recipe of your sound?
Take a good dollop of bass, sprinkle with acidic herbs, a pinch of humour, season with lashings of foreign spices..
3. Did your first gig make you hungry for more?
In a way, though it was pretty difficult getting all those analogue synths to behave and stay in tune amongst the sweaty punters..I remember one of the Atari computers crashing once and having to play the bass drum and bass live! Mixmaster Morris was on hand to mix some weirdness over the top to ease the pain..funny, a punter said afterwards it was the best gig he had seen us do…and he had been to over 20..
4. What's the biggest 'cock up' to date?
Well the last answer was a pretty bad one… prob the worst was when we flew to Australia to play at a solar eclipse in the desert… we had no working visa's and we got ditched to immigration by a rival promoter… we got there and spent 2 hours in prison before being sent straight back home… they did give us a bowl of cornflakes mind!
5. What is it that inspires you to make your music/sound?
I still always feel like a kid in a sweet shop when I start a tune… so many possibilities to explore..I guess I am influenced by the old and new..my childhood definitely comes through as my favourite shows were the bleep soaked Sci-Fi series' of the early 70's..plus some punkiness of the early 80's,the dark edge… and also modern day stuff… I listen to so many types of music… mainly world, middle eastern, African..
6. What would be the icing on the cake?
Finishing interviews? Oh, a lorry turning up at my house with all the old glorious analogue synths that were around when I was a mere child… maybe delivered by Joanna Lumley, in a red lotus soft top, holding an ice cold Mojito!
7. How will you be remembered? (what will make you vintage?)
After 20 years (yes, it's my 20th THIS year!) I think I am already qualifying for vintage!
Probably remembered as "That mad bastard that refused to stop playing childish silly dance music and get a proper job.." but he made a lot of people smile.."
8. Describe your music as if it were a fine wine.
Full bodied, deep red, the dark stone fruit flavours of techno given extra complexity by underlying flavours of acidicness, yet soft leading to a whole experience on the palate..drink at maximum sweaty temperature..
9. AfterMint! Does your musical style influence your underwear?
Not lately, but maybe the one's my mother in law buys would..
10. Digestive! What do you know about Luxembourg?
Ginger nut! Oh does that place REALLY exist? I have driven round it, through it, over it, next to it…and still never noticed..
More info: www.eatstatic.co.uk