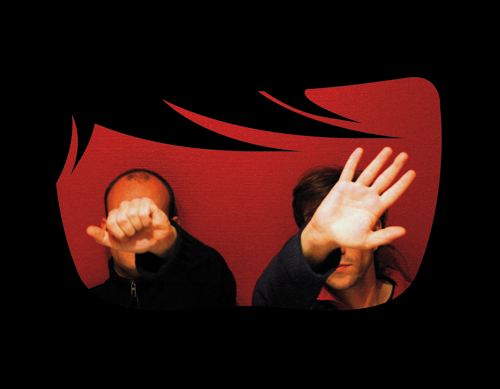 They were firstly nourished by their parent's vinyl records and then fascinated from an early age by the atmosphere of movies and shows such as Fantômas, The Good, the Bad and the Ugly or The Persuaders. Brothers Charles and Max Nilles created Luxembourg electronic outfit Artaban in 2006.
Drummer (Max) and guitarist (Charles) have explored individually various musical styles. Indie rock for Max, who performed as a drummer in several famous local Luxembourgish groups such as Actarus, Treasure Chest at the End of the Rainbow and currently Miaow Miaow. While Charles was more interested in electronic music, 'fiddling' with sounds on his computer and synthesiser.
After several years of exile, in Brussels for the one and Paris for the other, the two music bulimic brothers got back together in Luxembourg in 2004. This finally gave Charles (laptop and synthesiser) and Max's (bass) musical imagination free rein. Out of the reunion emerged Artaban; "a melting pot of various moods (cinema, nature, escapism) wrapped up in electro sounds"
1. How did you get started?
I (Charles) left Paris 4 years ago where I worked in an advertising agency. I used to live for my job, 28 hours a day, you know what I mean. I had no real free time. Here in Luxembourg I found time for making music with my brother, something that we planned a long time ago and now it's reality. We really enjoy it.
2. What ingredients do you need to mix together to produce the recipe of your sound?
Absinthe with Red Bull.
3. Did your first gig make you hungry for more?
Well, our first gig was last year at the Exit06 (Luxembourg) New Year's Eve party. While playing you could hear the the people talk and they really didn't care about us. Let's say it was an experience. Fortunately, our following gigs were better recieved, especially at d:qliq (Luxembourg)  and at the Exit07 (Luxembourg) with Apparat and Sug(r)cane a few weeks ago. Marc Hauser from the Exit07 helped us a lot in promoting Artaban and it would have been impossible to play so many gigs this year without his help. Merci Marc!
4. What's the biggest 'cock up' to date? (funny tale)
Still to come…
5. What is it that inspires you to make your music/sound?
Nature, movies and escapism.
Kavinsky – Nightcall (Artaban remix) by artabanmusic
6. What would be the icing on the cake?
Recording an album with the Beatles and Boards of Canada.
7. How will you be remembered? (what will make you vintage?)
"Oh yeah I remember now, they had this logo with the head …"( ha ha ha).
8. Describe your music as if it were a fine wine.
Roundness, pleasure with a touch of melancholy that contribute to the finest of electro alchemies (Ouaaaaahhhh…oulala…). A consommer sans moderation.
9. AfterMint! Does your musical style influence your underwear?
Oh yeah, it makes us fart for pleasure !
10. Digestive! What is about Luxembourg that keeps you there?
The Grand Duc and our groovebox.
Contact Artaban: contact@artaban.lu | More info: www.myspace.com/artabanmusic