Dana Oldfather is a self taught painter from and currently living in Cleveland, Ohio. Seeking emotive abstraction she examines the transitory nature of comfort, power and security.
Her biggest art influences are found in artists; Willem DeKooning, Richard Diebenkorn, Jackie Tileston, Reed Danziger, and Kristine Moran. To date she has been awarded a residency at the Vermont Studio Center and Zygote Press, the William and Dorothy Yeck Award for Young Painters and is the newest and youngest featured artist at Ink Dish in San Diego, CA. Currently represented at The Bonfoey Gallery in Cleveland, Ohio, she has been twice featured in the New York Times and is proud to be included in many public and corporate collections.
1. What would you say is the most important theme in your work?
Contrast and movement
2. What's most inspiring to your working process?
Previous work and new drawings.
3. Have you any strange talents that influence the work you produce or the way you produce it?
I practice ballet and yoga, and think the feeling of weightlessness and the motion of the body manifests itself in the work. I also think my childhood love of Tinker Toys and Legos is running around in there.
4. Which artist of the past would you resurrect to collaborate with and why?
Richard Diebenkorn – his work achieves a level of strength and elegance I'm constantly striving for. I also think he would be low key and easy to work with. I read somewhere that he liked making work and thought the work he made was best when his life was going smoothly. I operate that same way. Love me some DeKooning, but I don't think I could deal with the drama of the man.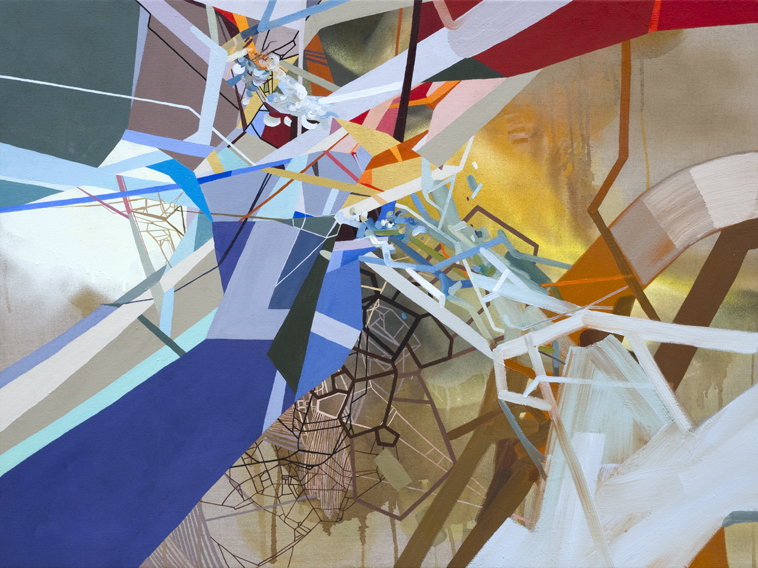 5. Do you think your work is understood or misinterpreted and why?
I think it's fairly well understood. Abstract art is tricky since it's so open to interpretation; people really put their stuff on it. When folks who don't know me talk to me about the work it usually has more to do with them then it does me. Which is usually pretty fun, so I don't mind – it's a good way to learn something about them.
6. If you could decorate one place in the world what would it be and how would you do it?
I really love 50s style interior design and in my fantasies one or two of my paintings hang in a Frank Lloyd Wright house.
7. What to date has been your 'cherry on the cake' moment and what was it that got you there?
When I was given the William & Dorothy Yeck Award for Young Painters earlier this year. I made it to the top 10 finalist exhibition three different years and surprisingly won it on the third. If there's one thing I'm not afraid to do, its try, try again.
8. What we ask everyone! Does your artistic style influence your underwear?
No, but it does my socks – on a daily basis.
—
More info www.danaoldfather.com
—