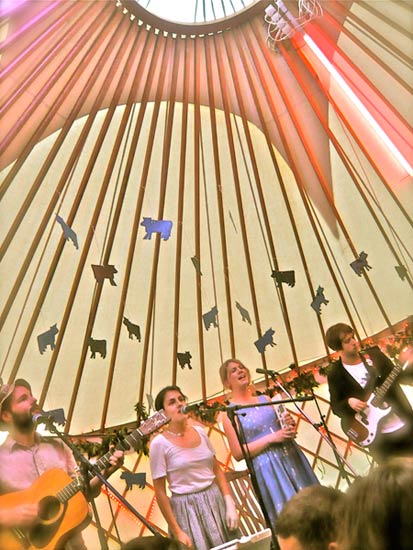 Brought together by a mutual love of singing harmonies, the voices of Marthas & Arthurs (Mary Douglas, Esther Ball, Tom Ball & Matt Hart) were forged around a campfire in the Herefordshire woods.
Their first few months were tucked away singing and playing just to themselves – "failing shambolically to sound like the Mamas and Papas"! Deciding to take the 'musical career' plunge they lined up and played an assortment of care homes for the elderly in North London, the advantage being that the audience couldn't run away.
They received an ecstatic reception from the frail and elderly. Having a shared boredom of the established gigging circuit, they started playing unplugged at people's houses and parties.
This gave birth to the Dinner Downloads concept. Basically Marthas & Arthurs began to make a name for themselves around London playing in homes in exchange for a meal and a drink or two. This led to a story in the UKs Evening Standard and further afield, such as the Brazilian national magazine Jornal Do Brasil.
All this lead to their debut release 'Apes in Aeroplanes EP [Available for FREE download here]. Some more Dinner Downloads, some festival appearances and some nods from industry plaudits and then suddenly the Marthas & Arthurs are recording their first album – that and answering the all important Q10!
Marthas & Arthurs – Counting The Colours Til Friday (EP version) by Marthas & Arthurs
1. How did you get started?
We started playing together around a campfire in a wood in Herefordshire. We all love singing harmonies, and were in a kind of let-go-clap-your-hands frame of mind. Then we played in front of a few people (our first gig was on a woodland bridle path in front of two people) before storming the North London Care Home circuit, where almost all our audience was alive at the end of our sets.
2. What ingredients do you need to mix together to produce the recipe of your sound?
Voices, voices, voices. That's it really. The guitars, bass, accordion, drums, flutes etc are all just dressing. Oh, and songs. We believe in the doctrine of the holy pop song, songs with a beginning, verses, choruses and all that old-fashioned stuff.
3. Did your first gig make you hungry for more?
Definitely. Though it would be nice to do more gigs where butterflies land on your guitar mid-song. We didn't want to just play any old dive after that, so we started playing in people's houses in exchange for food and someone called it Dinner Downloads and it stuck and then everyone wanted a piece so we hid for a bit.
4. What's the biggest 'cock up' to date?
Playing at an organised busking festival in Bury St Edmunds and getting asked to move on.
5. What is it that inspires you to make your music/sound?
Power and sports and sex and death. As well as home-made soup and herbal tea and the odd nip of whisky. Oh actually and trees and birds and memories of playing in sandpits and Judy Garland on the big screen in ribbons and a light blue dress.
Marthas & Arthurs – Sally Started It All (EP version) by Marthas & Arthurs
6. What would be the icing on the cake?
Mmm… after Status Quo slip in the mud and collectively break their legs, we're upgraded from the Queue for the Ladies Loo Stage to the Pyramid Stage on Sunday afternoon just as the sun is coming out and the mud is dry enough to sit on, and everything falls into place and we mercilessly bludgeon people into submission with our soaring harmonies and they put away their sacred Guardians and say to each other "hey this lot's not bad, who did they say they were again?"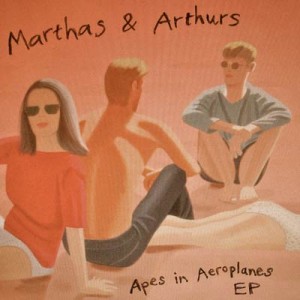 7. How will you be remembered? (what will make you vintage?)
As the band that brought song craft and singing your heart out back into fashion, but not quite all the way.
8. Describe your music as if it were a fine wine.
I found this curious bottle down at the back of the cellar, the label's a bit peeled but it's got some old writing on it that I can't quite make out… let's have a look. (pop!) Mmm… seems pure, but there's a bit of dark sediment at the bottom. Smells LOVELY though and brings a flood of bitter-sweet childhood sensations to mind. The initial taste is strong, pure and redolent of summer days with bees buzzing lazily over the grass and chaffinches trilling up in the trees, oh before things got complicated, and also I wonder what we'll do tonight maybe wear some sunglasses and wander around town looking at people, and is it still the 1960s and are there no such things as cars and offices or has someone spiked my…? hey I like this, oh woops I seem to have drunk the whole bottle, is there any more?
9. Digestive! If you weren't doing what you are doing now, what would make you happy?
Running around in reindeer skins chasing after woolly mammoths with weapons made from bones and antlers.
10. AfterMint! Does your musical style influence your underwear?
We're not sure about the causation, but we would expect a survey to find a correlation between the two. For example, we wouldn't expect Kylie Minogue to wear hemp boxer shorts. And Laura Marling probably doesn't wear sequin-studded pink crotchless panties, but at least two of us would enjoy being pleasantly surprised.
—
More info: http://www.myspace.com/marthasandarthurs | http://dinnerdownloads.tumblr.com
—