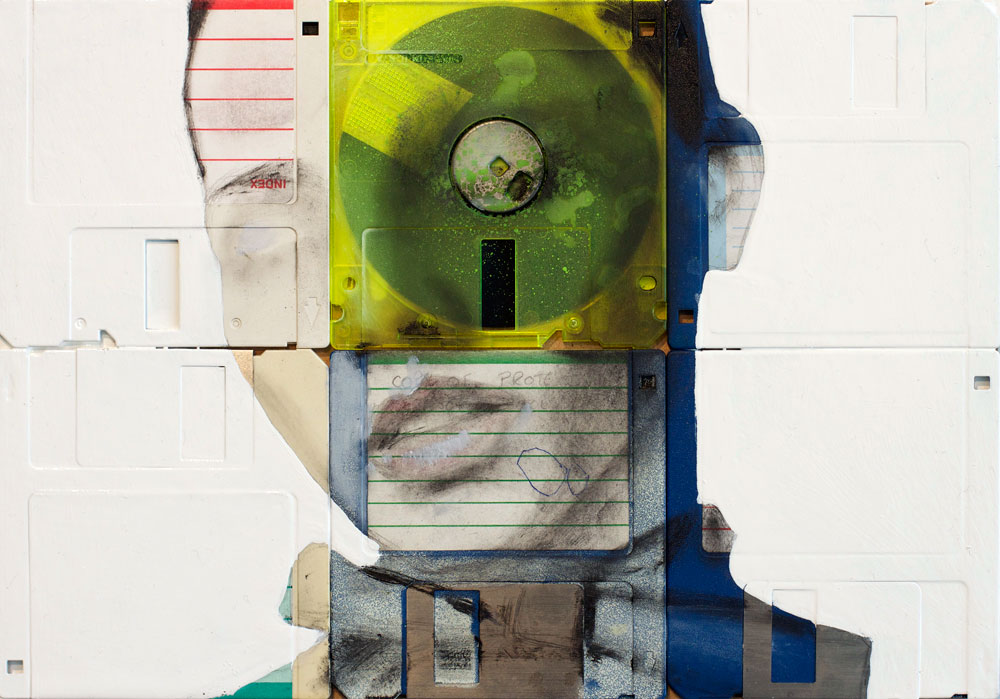 British artist Nick Gentry is a graduate of Central St Martins in London. Growing up as part of a generation surrounded by floppy disks, VHS tapes, Polaroid's and cassettes he is inspired by the sociological impact of the new internet culture.
In his work you can see the utilisation of a combination of obsolete media formats, the portraits making comment on the waste culture, life cycles and identity. Using old disks as a canvas these artefacts are combined to create photo-fits and identities that may draw connections to the personal information that is then forever locked down underneath the paint. Exhibitions thus far in the UK, USA and Europe
1.What would you say is the most important theme in your work?
For me it is the technology angle that I find most interesting, but the theme of life and death is also closely linked through the use of obsolete materials. I think the theme that I would like to carry forward is the idea that the art can be created from donated materials.
2. What's most inspiring to your working process?
I think it's amazing that people are giving me their old disks to make art with. Really that is the most inspiring part. The labels on the disks give me clues as to what kind of information is stored on there and it starts the whole creative process.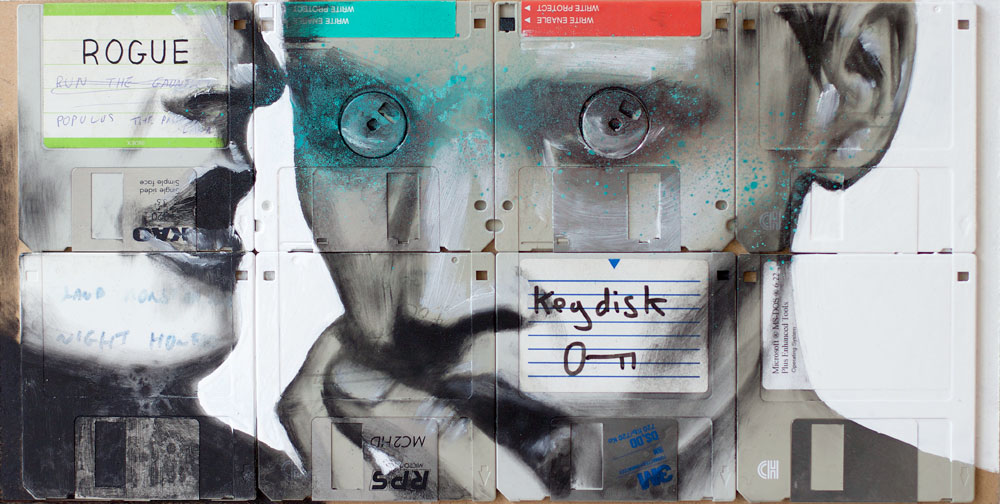 3. Have you any strange talents that influence the work you produce or the way you produce it?
I've got really efficient with a big glue gun that I use to stick down the disks. I think I would be really good at tiling bathroom walls now too and I'm sure my dad would be proud that I have finally developed some practical DIY skills.
4. Which artist of the past would you resurrect to collaborate with and why?
As a child, the artist that I admired most was Leonardo Da Vinci. The scope of his expression and creativity is what really fills me with awe. It's as if he could turn his mind to anything and completely revolutionise it, and in a way I want to develop that part of my own thinking. I wonder what he would make of today's technologies.
5. Do you think your work is understood or misinterpreted and why?
By working with used junk I think people can make an instant connection with what they are seeing. The work can be interpreted in a variety of ways, so in a sense there is no right or wrong way to understand it. If the viewer looks at the work and sees something of themselves in there then that could be a good start.
6. If you could decorate one place in the world what would it be and how would you do it?
The Egyptian pyramids. It's all crumbling down now so perhaps I'd be doing them a massive favour.
7. What to date has been your 'cherry on the cake' moment and what was it that got you there?
I recently had a show in Barcelona, which went even better than I had expected. I remember thinking that I would like to travel more with my art, as the whole process is incredibly inspiring.
8. What we ask everyone! Does your artistic style influence your underwear?
Floppies and underwear eh? I'm sure there's a joke in there somewhere…
—
More info www.nickgentry.co.uk
—
Images courtesy © Nick Gentry