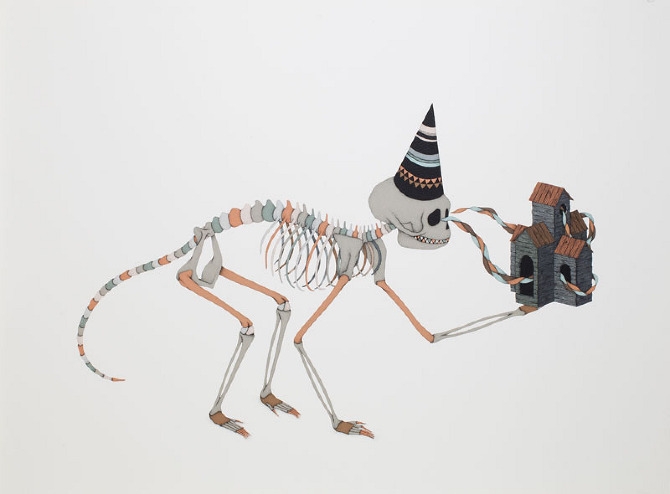 Hell'o Monsters is collective emerging in the late 1990s and made of Jerôme Meynen, François Dieltiens and Antoine Detaille. They left behind the wall art, graffiti letters and spray paint in favour of paper, characters, ink drawings and paint, later moving on to sculpture, installations and wall drawing. They create a unique graphic vocabulary that is complex and ambiguous, which they continue to expand in the course of their creative output, customising many recurrent elements, which they combine each time with new characters, or incorporate into unusual settings.
1.What would you say is the most important theme in your work?
Life and death, the duality, the ambiguity between the things.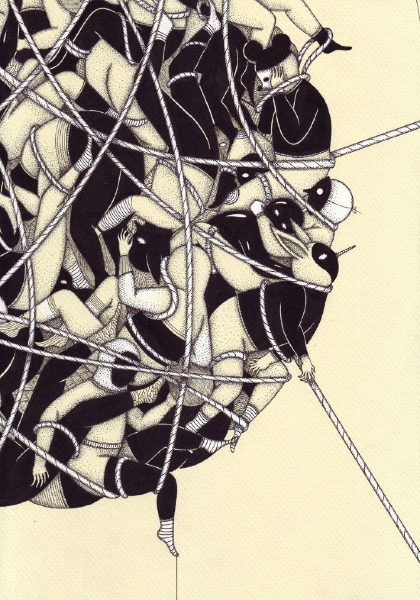 2.What's most inspiring to your working process?
All the engraving from the 17 century, the surrealism movement, the pop art, the ethnic pattern, the memphis pattern ,the animal world, the psychedelism…
3. Have you any strange talents that influence the work you produce or the way you produce it?
I think our talent is the fact we've become one identity with 3 personalities. We search to find that perfect homogeneity. When someone sees a drawing we made together and think it is just one artist involved, we've arrived at our goal.
4. Which artist of the past would you resurrect to collaborate with and why?
Our universe is a little bit similar then that of Jeronimus Bosch's work, so we think we liked to work with him for the madness and the incredible world he painted during his time.
5. Do you think your work is understood or misinterpreted and why?
We seek for both – we try to open our world to everybody but we also try to create something where each person can have their own personal interpretation. We give no titles to the drawings for this reason.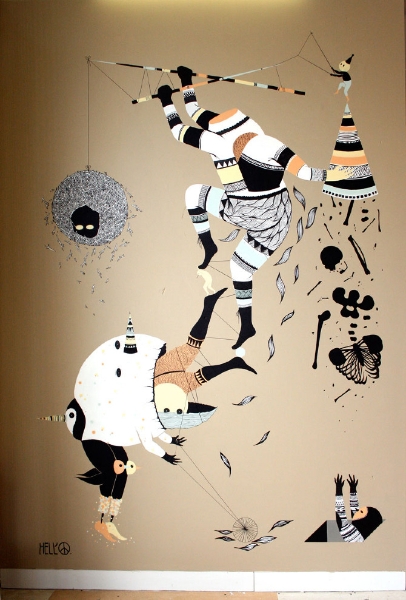 6. If you could decorate one place in the world what would it be and how would you do it?
A big painting on the wall of a big art institution like the MOMA or something like that. We don't know how but if it would happen it would be an incredible project.
7. What to date has been your 'cherry on the cake' moment and what was it that got you there?
It was our first big show at Le Palais des Beaux-Arts in Brussels. We were still young and this exhibition was the possibility for us to show our art to the larger public.
8. What we ask everyone! Does your artistic style influence your underwear?
Not at all, we are less in legging pants then our characters!
—
More info www.thehellomonsters.com
—