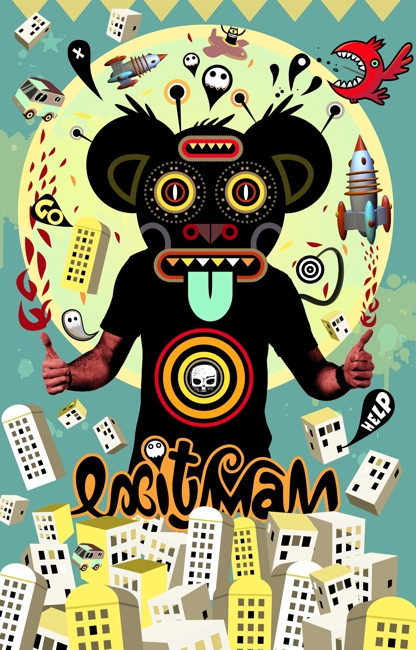 Exit Man vs Alesko is originally from Maisons Laffitte, Yvelines. A classical education and a love for the graphic arts lead him to some formal learning at the l'Ecole Supérieure des Arts Appliqués Dupperet in Paris. This lead to work in the advertising industry producing packaging, logos and posters for many clients. After 11 years in Paris working as an Art Director he decided to leave the "Urban madness" and with his family in tow saught a more meanful living in step with a human rhythm.
Having mastered the tools of his trade through his work – his work become art, which became his passion. Freedom of expression in not just graphic works (as Exit Man) but painting and sculpture (as Alesko)
INDIGITS est honoré de la participation sur l'A8
1. What would you say is the most important theme in your work?
The multiple personalities, the strange beings, the microcosms,
Aliens, fabulous monsters, cosmos,
The invisible around us, the cities, the lights…
les personnalités multiples, les êtres étranges, les microcosmes,
les Aliens, les monstres fabuleux, le cosmos, le fourmillement de la vie,
l'invisible autour de nous, les villes, les lumières…
2. What's most inspiring to your working process?
An immense desire to escape reality inspires my works. I am always in search of an alternative world or parallel universe. Fantasy, Science Fiction, surrealism, strange poetry, the absurd, these things here are all that motivates me in my creative process. The academic, classic, realistic, school works do not interest me.
Un immense désir de fuir la réalité inspire mon travaille,je suis toujours à la recherche d'un monde alternatif ou d'univers parallèles. Le fantastique, la Science Fiction, le surréalisme, les poésies étranges, l'absurde, les choses décalées…  voilà tout ce qui me motive dans mon processus créatif. Les œuvres académiques, classiques, réalistes, scolaires ne m'intéressent pas.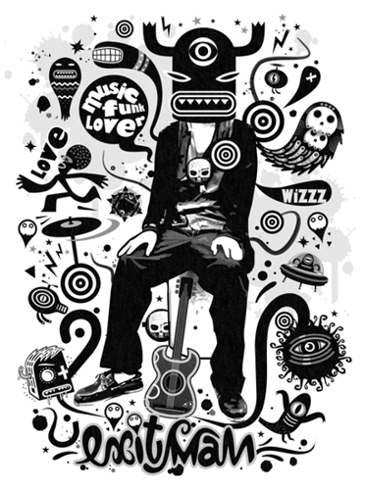 3. Have you any strange talents that influence the work you produce or the way you produce it?
'The demon of analogies', arguing from analogy, in French 'le démon de l'analogie'.
A dust, a spot, a word, a sound, an image activates automatically spaces, forms, sentences, music or whole universes and often we lose the thread and the object release mechanism (the object which activates the mecanisme of the thought).
Une poussière, une tache, un mot, un son, une image déclenche automatiquement des espaces, des formes, des phrases, des musiques ou des univers entiers…
…et souvent on perd le fil et l'objet déclencheur.
4. Which artist of the past would you resurrect to collaborate with and why?
The first artists who spoke to me are my favourite writers, those who upset my life when I was younger; Raymond Queneau, Boris Vian. It is above all sentences and words that initiated my first drawings. I like lines and outlines, signs and symbols, the drawings of the desert of Nazca are a part of my revelations. For sure Keith Harring is one of artists – I admire his graphic spontaneity, his tribal and urban universe and the relevant spirit of its drawings. There are especially many alive artists with whom I would like collaborated, such as Speedy Graphito, Gondry Michel but also the new generation of emergent young artists.
Raymond Queneau, Boris Vian… car c'est avant tout les phrases et les mots qui ont déclenchés mes premiers dessins. J'aime les lignes et les contours, les signes et les symboles, les dessins du désert de Nazca font partie de mes révélations. Bien sur, Keith Harring est un des artistes que j'admire pour sa spontanéité graphique, son univers tribal et urbain et l'esprit pertinent de ses dessins… surtout il y a beaucoup d'artistes encore vivants avec lesquels j'aimerai collaboré tel Speedy graphito, Michel gondry…
…mais aussi la nouvelle génération de jeunes artistes encore méconnus.
5. Do you think your work is understood or misinterpreted and why?
It does not interests me really to know if my creations are understood or not. They exist and it's enough. For me the important thing is simply to create, it is as a vital function of my body, an uncontrollable need to produce. I did not choose to be an artist, it was made in spite of me. My creations are above all a personal key.
Je me souci peu de savoir si mes créations sont comprises ou pas. Elles existent et c'est tout! Pour moi l'important est simplement de créer, c'est comme une fonction vitale de mon organisme, un besoin incontrôlable de produire. Je n'ai pas choisi d'être un artiste, cela s'est fait malgré moi. Mes créations sont avant tout une clé personnelle.
6. If you could decorate one place in the world what would it be and how would you do it?
I would like to realise a valley of stony men and sisyphes in a desert of sand.
J'aimerai réaliser une vallée d'hommes de pierre et de sisyphes dans un desert de sable.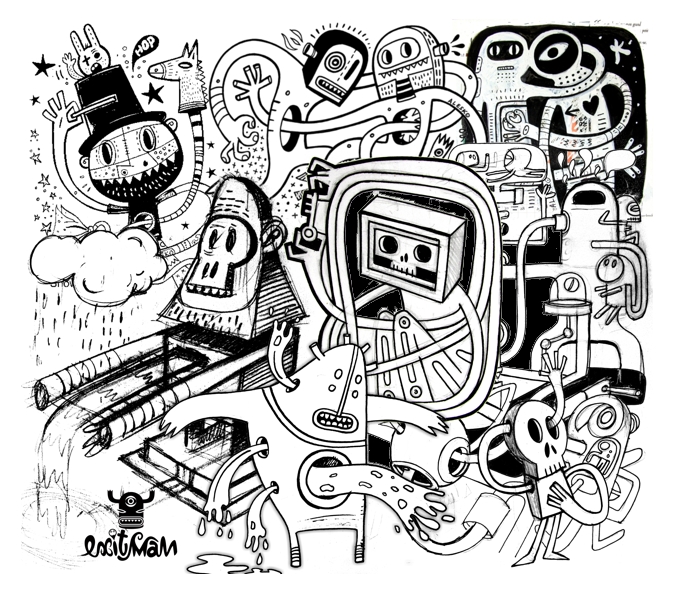 7. What to date has been your 'cherry on the cake' moment and what was it that got you there?
The prizes and artistic awards from shows that look cool on the CV. My first internet connection, I liked that immediately – it changed my way of living and of creating. Today it would be difficult to separate me from this tool which stimulates my digital creation. It provoked beautiful collaborations but it also brought collectors, admirers and sales!
Les prix et récompenses artistiques sur des salons… ça fait cool sur le CV. Ma première connexion internet… j'ai adoré ça tout de suite et cela à changé ma façon de vivre et de créer. Aujourd'hui, je pourrai difficilement me passer de cet outils qui a stimulé ma création numérique et provoquer de belles collaborations… mais cela a apporté aussi des collectionneurs, des admirateurs et des ventes!
8. What we ask everyone! Does your artistic style influence your underwear?
Yes! Because often my clothes and shoes are full of spots of paint from painting, or felt-tips, or glue. My clothes are always transformed into a palette, that is why I never invest lot of money in clothes! As many artists do, I've painted and decorated my jackets, my pants and my shoes and sometimes for my friends.
Oui car tout mes vêtements et mes chaussures sont toujours plein de taches de peinture, de feutre, de colle. Mes habits se transforment toujours en palette, c'est pourquoi j'investis peu d'argent dans les fringues! Comme beaucoup d'artistes il m'est arrivé de peindre et de décorer mes vestes, mes pantalons et mes chaussures ou de le faire pour des amis.
—
More info: www.pinterest.com/exitman/pins
—
Images courtesy © Exit Man vs Alesko