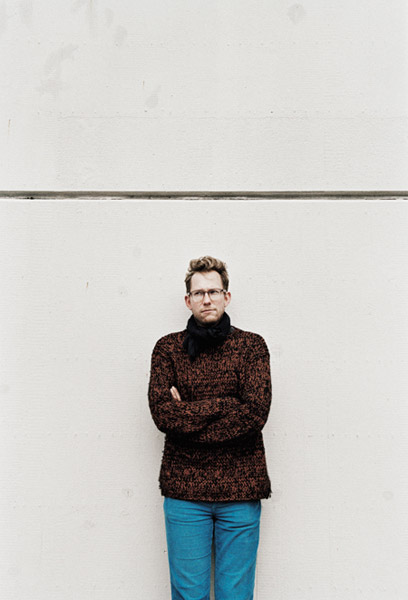 Originally from northern Germany, Norman Palm currently spends most his time between Berlin and Mexico City. He had an early talent in the arts alongside singing and playing instruments so Norman was encouraged by his family to go to art school – despite a desire to become a lawyer. He spent time studying in Berlin and then Paris where he started recording songs with his laptop.
After graduating he got a job as a designer, before starting a new design studio and then eventually publishing his first album 'Songs'. The album wasn't just a music CD but a record-book bundle; 11 songs wrapped in 200 pages of visual work. 1000 copies were printed, each of them numbered. All copies sold pretty quickly at shows and through the website. Second up was the album 'Shore to Shore' which he recorded together with producer and sidekick Janne Lounatvuori from Finland. Released in July 2010 it was sound departure from the first album and it didn't come -unfortunately- with a book!
According to Twitter Norman is currently writing new material in Mexico City, before he headed off INDIGITS managed to get him writing a Poll13!
1. The album I live my life by…
R.E.M – Automatic for the people
2. The song I wish I had written…
Happy Birthday
3. The song I'm glad I didn't write…
George Harrison – My Sweet Lord
4. If I could stalk one celebrity rock star…
Woody Allen
5. If I could resurrect one rock star it would be…
Arthur Russel
Phantom Lover by Norman Palm
6. Celebrity Death Match Opponent…
Gandi
7. My best gig ever…
Hard to say… probably supporting José Gonzales on a boat floating on the River Rhine, passing the lights of Cologne.
8. If I could get one band to cover one song…
Beatles – Wonderwall
9. If I could wipe a music genre off the face of the earth…
'World Music' – not for what it represents but for how wrong the term is!
10. The first record I ever bought…
Hits '89
11. On my ipod/mp3/walkman device right now…
Kurt Vile – Smoke Ring for My Halo
12. Superpower I wish I had…
Thought – Reading
13. Does your musical style influence your underwear?
Yes! Simple but catchy.
—
More info www.normanpalm.com
—
Photo © Johanna Ruebel