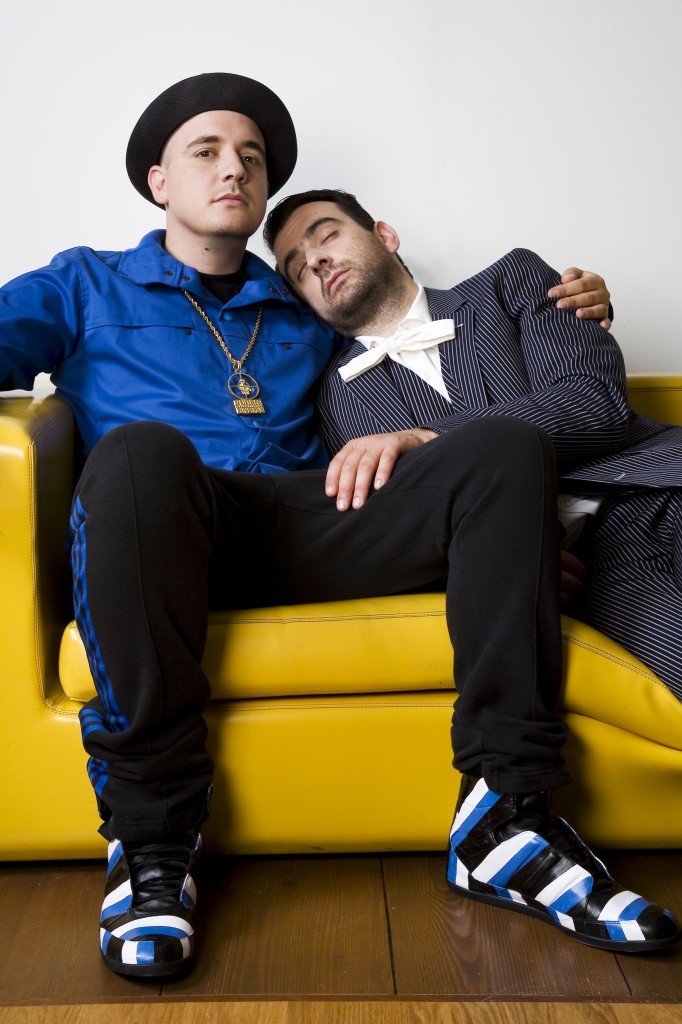 Modeselektor are a "wildly diverse, infused with exuberance and inspired by a slap of the absurd" music duo from Berlin. They're considered a band that gets music journalists grammatically salivating and waxing 'choice word' lyrical. In addition, they've got Thom Yorke's vocal admission as a fan club member.
To be found on Ellen Allien's Bpitch Control Label Modeselektor are Gernot Bronsert and Sebastian Szary. On joining musical forces they began producing under the name 'Fundamental Knowledge' before changing to Modeselektor in 1996. Their ability to remain ahead of the pigeon holing game, with references like "twisted melting pot of bastard dancehall, IDM, techno, hip-hop and acid rap" or "bassbin-blowing techno hop dubstep core", makes the dance floor duo a popular choice for the intelligent post-raver.
Their last album 'Moderat' was produced in conjunction with fellow BPitch artist Apparat (Sasha Ring). As a duo the last album was back in 2008, 'Happy Birthday!' which included collaborations with the likes of fellow Berlin outfit 'Puppetmastaz' to brit-indie-rock-pop ensemble 'Maximo Park' and even a special guest appearance from fan club member Thom Yorke, all helping to carve out that inability to categorise. It had been a distinct move from the instrumental first outing 'Hello Mom!' and provided evidence that the duo can really produce some electrifying stuff.
1.How did you get started?
We've known each other since elementary school and grew up in a little village deep in the mountains…
2.What ingredients do you need to mix together to produce the recipe of your sound?
The ingredients for our tracks are mostly things that occur in our every day life's, like a nice beer, a fat 12″ or a TR808…
3.Did your first gig make you hungry for more?
We wouldn't think so.
4.What's the biggest 'cock up' to date?
Ketamin!
5. What is it that inspires you to make your music/sound?
Colours.
6. What would be the icing on the cake?
Coloured Ketamin! No, we are kidding, of course! The icing on the cake would be to have a lot of time in the studio, without any time pressures or any obligations.
7. How will you be remembered? (what will make you vintage?)
That, back in the good old days, we were the ones that were the coolest, the loudest, the most beautiful and over all the most rocking band on earth.
8. Describe your music as if it were a fine wine.
Our music is like a bottle of champagne, well shaken.
9. AfterMint! Does your musical style influence your underwear?
That's too intimate, sorry.
10. What do you know about Luxembourg?
Isn't that the country where the rich ones hide their money in order to not have to pay taxes in their own countries? Ha, ha … No, well… Actually we would have to look it up at Wikipedia… We think that there are a lot of young, cool people who want to have a great party and listen to great music, right?!
More info: www.bpitchcontrol.de/artist/2/87
Image: Birgit Kaulfuß