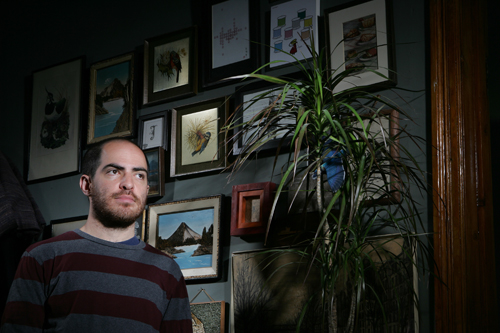 "Time signatures, musical genres and instrumentation have been given the thorough shake-up they have long needed!" Thanks to Max Tundra A.K.A Ben Jacobs who turned his hand to musical invention on discovering a piano and a penchant for replaying the theme songs and music from advertisements on the telly. Formal lessons, dead composers; PROTEST doth he!
As a teenager he armed himself with a Commodore Amiga 500 home computer and some very cheap music software. Here he commenced a journey of exploration into the territory of electronic composition. By 1998 having mastered the 'electronics' and developed a musical aptness Warp Records released his first single 'Children at Play'. Bizarrely, initially he was accused of having "too many ideas" yet un-intimidated Max Tundra (as he was now known) forged boldly forward with his "musically diverse and eclectic career".
The third album 'Parallax Error Beheads You' was 6 years in the making and received numerous noteworthy reviews including Paul Lester stating, "There are more ideas crammed into the 41 minutes of Max Tundra's third album than most bands manage in their whole careers."
That's not to say though those 6 years were spent hibernating in a studio space with an amassed collection of strange sound equipment (although this may very well be the case). Max Tundra had also been remixing for an assortment of bands, to mention but a few: Architecture in Helsinki, Mint Royale, Franz Ferdinand and the Pet Shop Boys.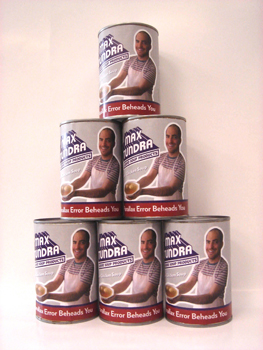 The first single from the album 'Will Get Fooled Again' with the album, released nearly a month after, also it came in the form of a limited edition Kosher Chicken Soup can (on which a unique code and link to download a digital copy and other goodies was provided).
In June 2010, Max Tundra effectively announced on Twitter that Parallax Error Beheads You would be the final Max Tundra album.
—
Anyway here he is on the Q10 – perhaps not the hardest questions in the music-journo biz!
1. How did you get started?
On a child's guitar I found in the dustbin at school.
2. What ingredients do you need to mix together to produce the recipe of your sound?
Sausages and sex.
3.Did your first gig make you hungry for more?
Yes, especially as it was in Budapest, where there is a ton of delicious food.
4. What's the biggest 'cock up' to date?
My modest record sales.
5. What is it that inspires you to make your music/sound?
The smile of a beautiful audience member when I play a solo on my Suzuki Andes.
6. What would be the icing on the cake?
To be able to freeze time like that guy in The Fermata.
7. How will you be remembered? (what will make you vintage?)
For my soft lips.
8. Describe your music as if it were a fine wine.
Chewy sediment, tangy ideas.
9. AfterMint! Does your musical style influence your underwear?
I have an eclectic taste in panties, yes.
10. Digestive! What do you know about Luxembourg?
The biscuits are great.
—
More info: www.dominorecordco.com/artists/max-tundra/