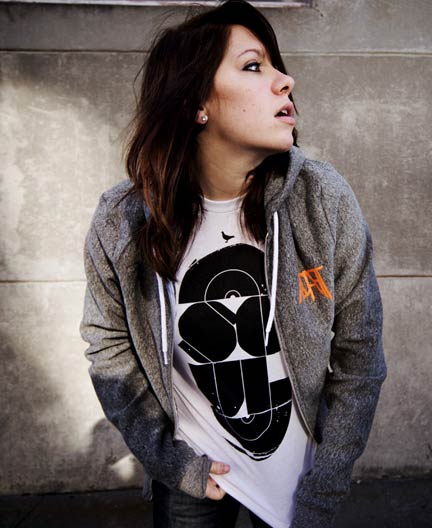 Kristine Flaherty grew up just outside of Chicago. Early inspiration came from delving into her father's classic rock records and staying up late dancing to Parliament-Funkadelic in the living room. She found her musical voice in college, fusing the eclectic power of the Bay Area hip hop scene with her own unique presence, inspired by strong, independent female artists ranging from Missy Elliott and Lauryn Hill to Fiona Apple and Liz Phair.
K.Flay is a one-woman army – she creates the beats, sings, raps and plays guitar. As a lyricist her wit and acerbic charm shine. Further setting her apart from the pack, she serves as her own producer in the studio, methodically infusing hip hop swagger with a dose of sonic exploration.
1. How did you get started?
I was at university, chatting with a friend about hip hop. At the time, I had just gotten into Bay Area rap and was insanely obsessed with Dizzee Rascal's 'Boy In Da Corner' and was like, why aren't girls doing stuff like that? A kid in my dorm produced house music, so he and I started messing around with beats and before I knew it I bought a keyboard and was recording tracks and playing house parties.
2. What ingredients do you need to mix together to produce the recipe of your sound?
Fat kick drum, a couple synths, and a small of amount of frustration.
3. Did your first gig make you hungry for more?
My first gig made me feel completely terrified. But there was something about performing my own material – and watching an audience react – that was sort of amazing. It wasn't until my fifth or sixth gig that I stopped being scared and actively wanted to get on stage.
4. What's the biggest 'cock up' to date?
Well, this isn't a huge fuck up, but I'm constantly forgetting that time zones exist.
5. What is it that inspires you to make your music/sound?
It's a mix of things. Sometimes it's listening to an artist or an album that inspires me to push my sound and try something new. Sometimes it's feeling super lonely or crazy or happy. Mostly though, it's remembering that moment when I've just finished a track and the rest of the world kind of melts away for a minute.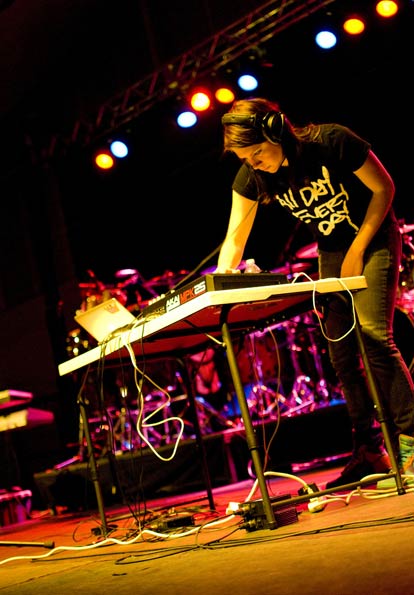 6. What would be the icing on the cake?
Cheesecake frosting. On red velvet cake.
7. How will you be remembered? (what will make you vintage?)
Hmmm I don't know. I hope people think I'm nice. Oh and I hope my kids (which I don't have yet, don't worry) are badass.
8. Describe your music as if it were a fine wine.
Kind of weird tasting but will definitely get you drunk.
9. Digestive! If you weren't doing what you are doing now, what would make you happy?
Reading books and somehow getting paid to do that. So I guess being a graduate student? That would probably make me
happy.
10. AfterMint! Does your musical style influence your underwear?
Absolutely. I'm into patterns on underwear. And patterns in drums.
—
More info www.kflay.com
—
Doodle space, if you feel so inclined!
How do paramecia communicate? CELL PHONE