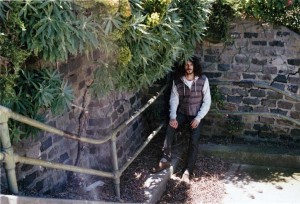 Island Boy is the ongoing project of San Diego-based, Puerto Rican musician/producer Richard Hunter-Rivera. Incorporating elements of French house, reggaeton, latin freestyle, and new wave with crooning vocals, his music pays clear homage to pop and the art of modern songwriting. In late 2012 Island Boy released an EP that features a heavy-dose of sampling, live signal manipulation, and unorthodox recording processes. The resultant production style, dense, cinematic, and surreal, carried over into Hunter-Rivera's first full-length effort, Basic Instincts.
Entirely self-produced in his personal studio over the course of 2013, the record is the direct product of Hunter-Rivera's renewed dedication to music and performance after years of toiling away at a desk job in the tech sector.
Furthermore Island Boy has shared the stage with many established acts such as Wild Nothing, MS MR, Chad Valley, Little Green Cars, Keep Shelly in Athens, Kisses, The Album Leaf, and Gary War…
1. How did you get started?
In music, I was 9 years old, playing Fur Elise on a Casio toy synth. Island Boy rose from my production roots, I love recording music and have been doing it since I was a teenager. While playing in a band called The Moviegoers in the early 2010s I wrote and recorded a couple songs but they didn't fit that band's ethos, so I started a new project, called it Island Boy and went with that.
2. What ingredients do you need to mix together to produce the recipe of your sound?
Deep kicks, snappy snares, moog bass, MIDI, AKAI MPC, Digital Performer, thumping compression, tape saturation, peace, quiet, time, water, sweat, movement, heat
3. Did your first gig make you hungry for more?
I was pretty starved before that first gig in fact!
4. What's the biggest 'cock up' to date?
Not believing in myself enough for the first 7 years of my music career, to quit my office job and make it happen one way or another. They tell you to "keep your day job" but that's a bunch of bullshit. If you are wasting away at a 9-5, how will you ever have time to improve as a musician?
5. What is it that inspires you to make your music/sound?
These days what inspires me to be an artist is just that, if done right it can be a wholly productive and selfless existence. I make music that makes people happy and at the very least it is a positive way to express myself. By being a musician and producer I'm not working for a company raping-the-earth or on wall street stealing money from all the poor saps out there. I help other musicians and artists accomplish their vision and it feels good to do that for people.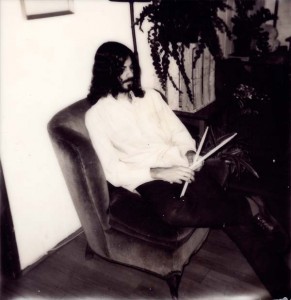 6. What would be the icing on the cake?
Touring the world with Thom Yorke and Pitbull – that would probably be a bit more than the icing. Let's go with "putting out a record better than my last".
7. How will you be remembered? (what will make you vintage?)
Hopefully, as a good and caring friend, brother, husband, father (someday). Musically I don't care if what I do now matters in the future. I try to live in the musical moment.
8. Describe your music as if it were a fine wine.
hmmm… I've had one like this before… oh wait have I?
9. Digestive! If you weren't doing what you are doing now, what would make you happy?
Living on a farm in Puerto Rico. I might just do that anyway!
10. AfterMint! Does your musical style influence your underwear?
no comment 🙂
—
More info islandboyisland.tumblr.com | www.soundcloud.com/island_boy
—
Doodle space, if you feel so inclined!