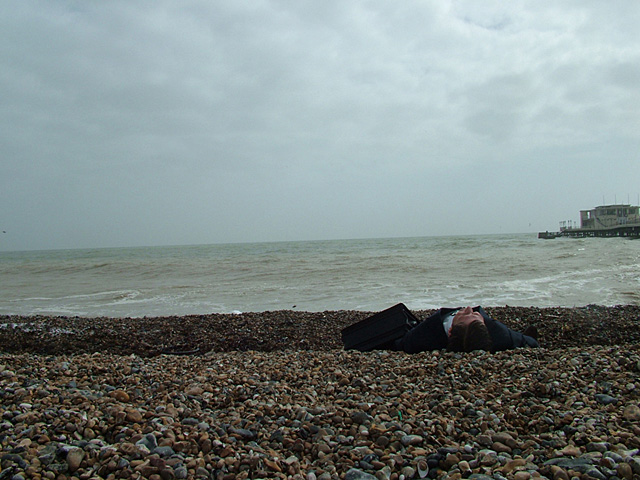 Formed by Toby Marks in 1989, Banco de Gaia is an electronic music band from the UK. The band swelled in 1997 to 5 members with Ted Duggan (drums), Ashley Hopkins (bass), Larry Whelan (Wind Synth, Sax and Ethnic Flutes), and Gary Spacey-Foot (Percussion and Saxes). But whittled back down over the years to become a solo act again by 2003.
Marks musical career began as a drummer in a heavy metal band – no name forth coming! At one point he had even moved to Portugal where he was playing Beatles music for tourists. His first exploration into the electronic music, that would go on to make-up the body of his work, was in 1989 after he'd brought a digital sampler.
The Banco de Gaia sound is notable for the introduction of elements of Eastern and Arabic music and other similar exotic sources and mixing this with ambient dub rhythms. As an old attendee of Mega Dog events I'm delighted to present Toby Marks on the not so old Q10…
1. How did you get started?
I was playing trumpet back when I was 9, then got into drums and later guitar, mostly rock and a bit of jazz. When acid house happend in the UK in the 80's I suddenly discovered dance music and was particularly drawn to the potential offered by samplers and sequencing so started to dabble in ambient and dance styles then.
2. What ingredients do you need to mix together to produce the recipe of your sound?
I have always used a lot of sounds from around the world, whether they are environmental sounds or music from other cultures. Add to the a healthy dose of analogue-type synths and dance grooves, some good, heavy bass and maybe some random voice samples and you've got the basics of Banco de Gaia.
3. Did your first gig make you hungry for more?
Absolutely. I was in a classical choir as a kid then my first rock gig was as a drummer when I was 14. I rather liked being one of the ones on stage rather than in the audience!
4. What's the biggest 'cock up' to date?
Technology can always go wrong when you don't expect it, tracks playing at the wrong tempo or the wrong samples triggering. That can lead to some very interesting 'accidents' of course. People pouring beer in the venue electricity supply (or in one case vomit!) can wreck a show pretty quickly too, and there have been 5 minute sets where everything is running so late (usually the Sunday night at a festival) that time just runs out.
5. What is it that inspires you to make your music/sound?
The search for a better world, trying to achieve a better state of being. Music can provide an escape from the problems and compromises of day to day life, it takes us closer to the experience perfection and I am always striving to achieve that more fully. Plus it's fun.
6. What would be the icing on the cake?
Well, I got to play guitar with Hawkwind, and have met many of my childhood heroes (one of the perks of keeping going so long!) but I think collaborating on a Pink Floyd or Radiohead album would be pretty damn cool, or working with Philip Glass.
7. How will you be remembered? (what will make you vintage?)
The one with the train on it!
Last Train to Lhasa (Live at Glastonbury) by bancodegaia
8. Describe your music as if it were a fine wine.
Subtle notes of pomegranate blending with a twist of fresh juniper and a suggestion of warm creosote followed by a brash cacophony of walnuts and cashews, ending with just a hint of sage smoke carried on a distant breeze.
9. Digestive! If you weren't doing what you are doing now, what would make you happy?
Climbing up mountains, skiing down mountains, swimming with the fishies and flying with the birds. Or making a film about the lost cultural heritage of mankind. Or writing the greatest novel ever. In arabic.
10. AfterMint! Does your musical style influence your underwear?
Do you hear any hint of boxing in what I do?
—
More info www.banco.co.uk
—