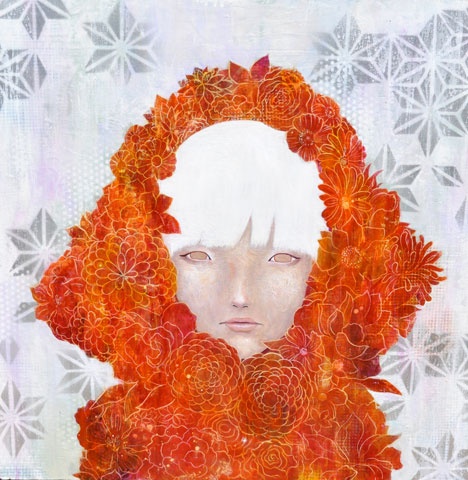 Yoskay Yamamoto lives and is inspired by his current place of residence – west coast America. Originally from Toba, Japan Yamamoto's moved to the United States when he was 15. A self taught artists/illustrator Yamamoto utilises a number of different mediums and techniques to produce his work. He also sculpts. He states he is inspired by the urban culture of his surroundings but part of his work is to fuse this with his heritage – merging both cultures together. Yamamoto takes traditional Japenese elements and combines them with the iconic pop characters of his home to create a modern yet traditional fusion of pop art inspired works.
1. What would you say is the most important theme in your work?
One example, for my solo show 'hello and goodbye' my work centered around the theme of connection and separation. I left my home town Toba, Japan when I was 15 and this separation eventually helped me to connect to my family on a deeper level. Also being away from my culture and its tradition made me realise how special and meaningful they were to me. There are times when separation helps me to connect – to grow and understand myself better, and there are situations when attachments make me feel powerless and weak…
This balance and the conflict between connection and disconnection fascinates me. Over all I believe that we strive for connections that refine our ability to understand ourselves better.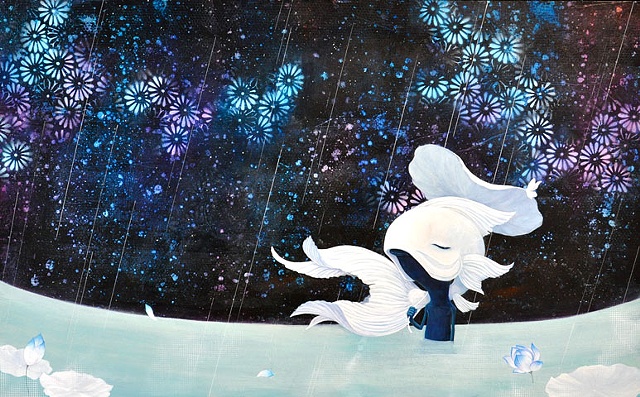 2. What's most inspiring to your working process?
I'm most inspired when my work surprises myself. I enjoy watching where my work takes me… the process and progress itself becomes the inspiration to push myself and my work harder and further.
3. Have you any strange talents that influence the work you produce or the way you produce it?
I don't know if this counts as a talent but I'm mildly clumsy so happy accidents happen sometimes in my work.
4. Which artist of the past would you resurrect to collaborate with and why?
Andy Warhol…! I like his work and I have seen few of his interviews. I love how strange he is. Also, I would like to party at the factory!
5. Do you think your art is understood or misinterpreted and why?
It doesn't matter either way to me.
6. If you could decorate one place in the world what would it be and how would you do it?
I'm ok with my surroundings, so no…..
7. What to date has been your 'cherry on the cake' moment and what was it that got you there?
I'm not sure about the term "cherry on the cake moment"…..
8. What we ask everyone! Does your artistic style influence your underwear?
Well a few of my undies have paint on them so I guess it does…
—
More info www.yoskay.com
—

Artwork courtesy ©Yoskay Yamamoto