Otto Björnik sees himself a storyteller, producing a rich mixture of precious childhood memories and fairy tales. An architect by training he creates works in pen and ink with intricate detail. The elements he uses often hold symbolic meaning and he takes care in their construction to piece them together like a jigsaw to reveal an overall story.
Originally from the Phillipines he traversed through student assistant to construction worker to art director before settling for a career rekindling "youth with a wink and infinite mirth". Originally completing this interview in 2009, he states it was his first interview – ahhh – but I got side tracked and it never got published…
1. What would you say is the most important theme in your work?
People usually identify my work as whimsical or simply out of this world. I think they are just intrigued by the humor and visual puns that I inject in every piece – that they've opened up their minds and easily relate to the peculiarity like faint memories of things they've had at one point in their lives. This has made it very easy for me to address and cloak very sensitive issues as well. (see crocodile tears & red threading)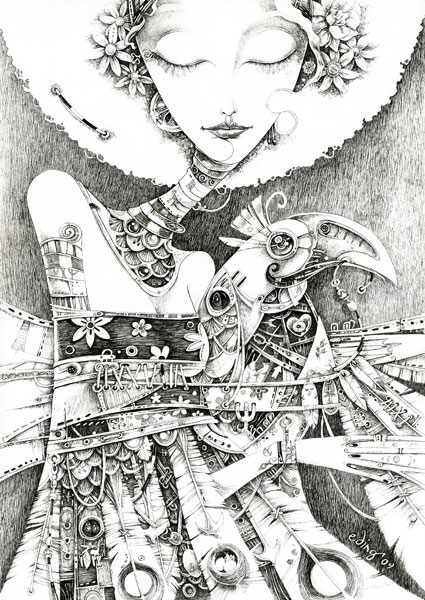 2. What's most inspiring to your working process?
Before I start drawing, I need to be really in the mood for the subject so that everything goes smoothly. If not, I think up random shapes that I can work around with and balance them on paper. I normally start with a beautiful face that should sustain my interest for the next 2-3 weeks of meticulous pen work. When I'm set for something, I could work for hours until I'm satisfied with it.
3. Have you any strange talents that influence the work you produce or the way you produce it?
Sometimes I'm amazed at how fast I can solve puzzles. Modesty aside, I'm quite good in mind games and I love acting out in charades.;-)
4. Which artist of the past would you resurrect to collaborate with and why?
I've always wanted to be a realist painter so that I could share the wonderful life in the country that I think other people were unfortunate not to have. I can only think of Rembrandt and the Filipino master Fernando Amorsolo to teach me their color palettes. I would also want Gustave Doré to be my godfather.
5. Do you think your art is understood or misinterpreted and why?
I always present my personal drawings to have multiple interpretations. So it can be both.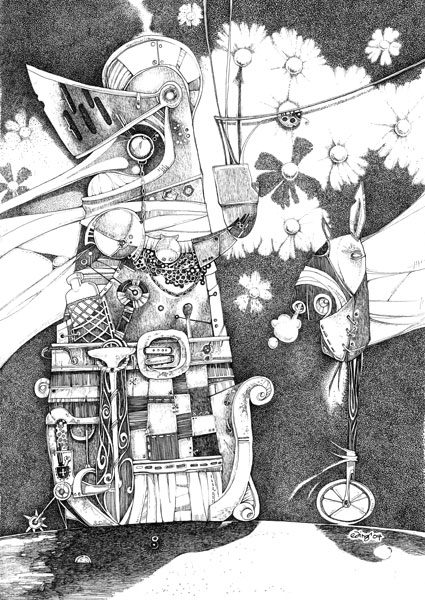 6. If you could decorate one place in the world what would it be and how would you do it?
I find it difficult to decorate places that were erected on a good design. As an architect, I would find it more fulfilling to fill up deserts with checkered patterns like a giant chess board. If I could only contract someone to regularly bring rain so the place will thrive, then I will pepper it with houses for the homeless. Then we'd doodle on every house just as I would on The White House's façade. Seriously, it needs to cut some slack. My art attack would be a genuine proposition…haha
7. What to date has been your 'cherry on the cake' moment and what was it that got you there?
I don't know if I can answer that because I haven't 'made' it to anything yet. But I've always enjoyed drawing as a personal fulfillment more than anything else. And to be recognised and praised for my works is quite an achievement.
In 2009 I had the unique opportunity to collaborate with Yahoo! SEA, I won deviantArt and Wacom's art contest (see: The Dichotomy of Man), signed some licensing contracts and then I had this, my very first interview. Next question please?
8. What we ask everyone! Does your artistic style influence your underwear?
Hahaha! I think it's the other way around, just like my underwear I handle everything with care, even the last strands of my subjects' hair. 😛
—
More info www.bjornik.com
—
Artwork courtesy © Otto Björnik