Matthew Shlian is an artist, paper engineer, teacher and collaborator. After graduating from Alfred University in 2002, Matthew spent three years working as a paper engineer in the field of commercial design. There he made movable paper contraptions, from popup books to greeting cards to artist books and kinetic sculptures. In 2006 he received his MFA from Cranbrook Academy of Art. Currently he operates a design studio in Ann Arbor Michigan, teaches Foundations and Paper Engineering at the University of Michigan and works as a visiting research scholar at the University's Material Science department.
"As a paper engineer my work is rooted in print media, book arts and commercial design. Beginning with an initial fold, a single action causes a transfer of energy to subsequent folds, which ultimately manifest in drawings and three dimensional forms."
1. What would you say is the most important theme in your work?
Manipulation of form from 2d to 3d & curiosity.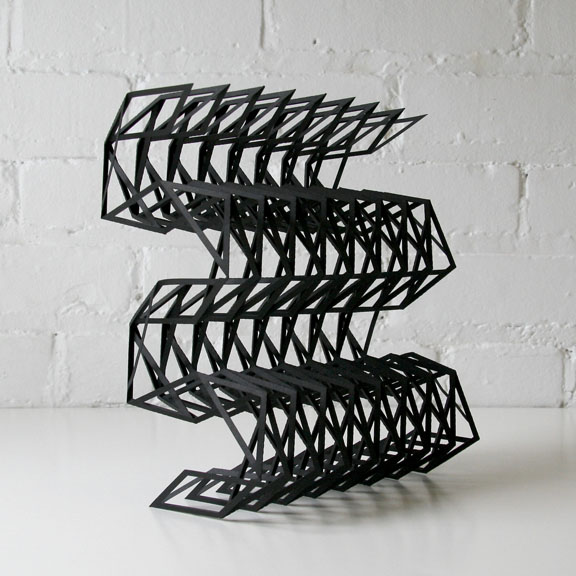 2. What's most inspiring to your working process?
I find inspiration in just about everything; Solar cell design, protein misfolding, Arabic tile patterning, systematic drawing, architecture, biomimetics, music etc. I have a unique way of misunderstanding the world that helps me see things easily overlooked.
3. Have you any strange talents that influence the work you produce or the way you produce it?
I wouldn't say it is strange but I've been a drummer all my life- I grew up playing in bands. I can easily see the connection between sound and the visual arts.
4. Which artist of the past would you resurrect to collaborate with and why?
Like a zombie? Maybe a zombie Buckminster Fuller.
5. Do you think your work is understood or misinterpreted and why?
I have no idea.
6. If you could decorate one place in the world what would it be and how would you do it?
I am anti-decoration.
7. What to date has been your 'cherry on the cake' moment and what was it that got you there?
I was on Sesame Street. The word of the day was "sculpture".
8. What we ask everyone! Does your artistic style influence your underwear?
no
—
More info www.mattshlian.com
—

Images courtesy © Matt Shlian