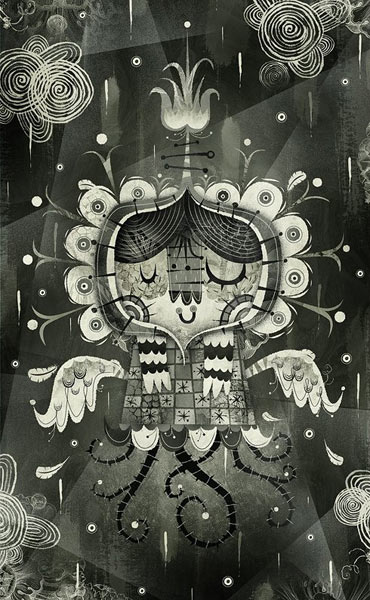 Mexican illustrator & designer Alberto Cerriteño currently resides in Seattle, America. Inspired by vinyl toys, alternative cartoons and pop surrealism Alberto also likes to introduce little hints from his traditional Mexican roots. He takes the rich textures and decorative patterns and makes contrasts by blending them with desaturated colours and inks, sometimes featuring a vintage coffee effect.
Formally working as an Art Director he has had experience in advertising, print, interactive outputs, installations and educational work. Currently he focuses on independent work, collaborating with talented people for his illustrative creations.
1. What would you say is the most important theme in your work?
Joyful and happiness would definitely be a consistent theme in my work. I believe art should make you feel good and not disturb you. I understand there's art that shocks you, I can appreciate this as well, sometimes, but personally when I making my art I'm working with a good and positive feeling and this by nature will be reflected in it.
2. What's most inspiring to your working process?
Creatures in general inspire me to do my work, with any living creature I can easily imagine a story, or a scene, or even just a simple pose to express something. Any character will always provide interesting shapes, compositions and personalities to set a mood or tone. So in essence I would say stay alert to observe the life around me – this inspires me enough.
3. Have you any strange talents that influence the work you produce or the way you produce it?
Not really, I think I'm a pretty ordinary person, I wish I had some strange talents or even better strange powers. The strangest thing that I can think of might be just the way I sleep sometimes, really in the edge of my bed – you would be surprised how I don't fall out, but I don't think this would be considered a talent per se.
4. Which artist of the past would you resurrect to collaborate with and why?
Mary Blair, an amazing artist who was in charge of setting the tone as a concept artist, in a few Disney classic films, with peculiar cartoony but intrinsic and compelling art style.
5. Do you think your work is understood or misinterpreted and why?
I'm pretty sure it is understood because it is not complicated nor pretentious at all.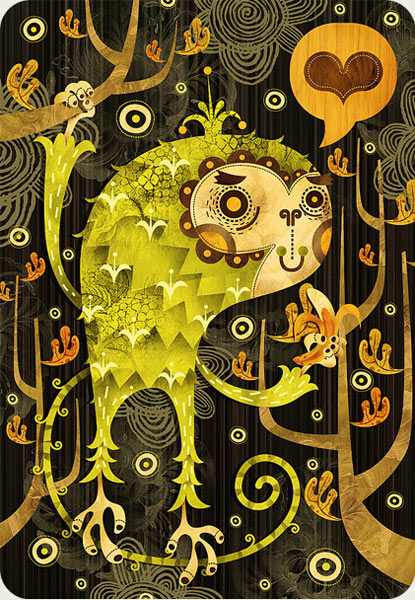 6. If you could decorate one place in the world what would it be and how would you do it?
I would love to decorate a piece of the sky with giant balloon characters. If I just could twist the moment when you are looking at the sky looking for some shapes in the clouds and instead you see colorful floating creatures made by me – that's totally the place I would die to decorate.
7. What to date has been your 'cherry on the cake' moment and what was it that got you there?
Constantly I'm hoping for not loosing my ability to be surprised and amazed for what is coming. When I feel that I put my cherry on the cake that will means I'm done and I will never get that moment again. But for sure I've have lots of big moments of satisfaction in my career and at the end of it all of it is the result of hard work, believing in myself and what I can and I can't do.
8. What we ask everyone! Does your artistic style influence your underwear?
Ha, I wish! Now that you mention it I would love to have a pair of boxers with my own designs 🙂
–
—
More info www.albertocerriteno.com | Shop www.etsy.com/shop/acerriteno
—
Images courtesy © Alberto Cerriteño