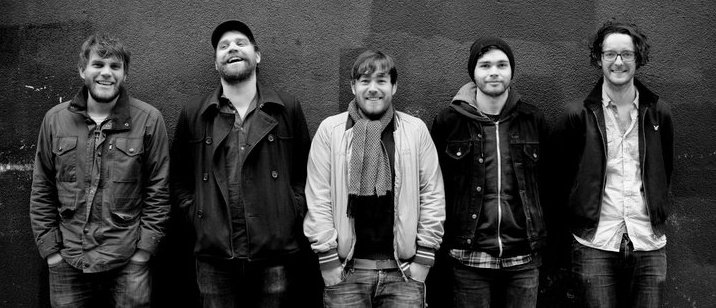 Glasgow based Frightened Rabbit, originally from Selkirk, formed in 2003 under the lead of Scott Hutchison the bands lead vocalist, rhythm guitarist and lyricist. Other members include brother Grant Hutchison on drums, guitarist and bassist Billy Kennedy, guitarist Andy Monaghan and keyboardist Gordon Skene.
Originally the name 'Frightened Rabbit' was the stage name for Scott's solo shows, but as it developed into a fully fledged band the name stuck. The debut album 'Sing the Greys' was released back in May 2006. By January 2007 they did an east coast tour of America organised by The Self Starter Foundation, followed by an appearance at SXSW.  On the back of the Brighton indie label Fat Cat Records, who released a remixed/remastered version of the album in the USA (distributed by Caroline Distribution), the band did an extensive American tour in the autumn of 2007
In April 2008 the band released the album The Midnight Organ Fight, recorded at producer Peter Katis's Tarquin Studios in Bridgeport, Connecticut. At this point guitarist Andy Monaghan had also joined the band, after a chance meeting with Scott at a New Years Eve Party.
The third album, The Winter of Mixed Drinks, was announced in the autumn of 2009 alongside the arrival of a fifth band member, Gordon Skene. The album released spring 2010 was primarily recorded at Castle Sound Studios, in Pencaitland, Scotland – with further recording taking place at Peter Katis's studio. On release the album was greeted with much praise from 'those music pillars' on both sides of the Atlantic.
Frightened Rabbit by Frightened Rabbit
INDIGITS managed to get Scott on the, errrr, industry leading Q10 aprés a Berlin gig! PS. This delay in publishing (photo) is for Gordon's Mum…
1. How did you get started?
I bought a Tascam 4-track recorder and I got hooked!
2. What important ingredients do you mix together to produce the recipe of your sound?
Flour, Eggs, Milk, Drums
3. Did your first gig make you hungry for more?
I can't remember!
4. What's the biggest 'cock up' to date?
In York, I lost my place in the song. Fucking embarrassing!
5. What is it that inspires you to make your music/sound?
Anything and everything – Gaga, Wilco, Jay-Z, Neutral Milk, Hotel, etc
6. What would be the 'icing on the cake'?
The icing is not obtainable, but I'll keep trying.
7. How will you be remembered? (what will make you vintage?)
That's not for me to decide.
8. Describe your music as if it were a fine wine.
Light, Chilled, Pinot Noir
9. Digestive! If you weren't doing 'this' what would make you happy?
Painting houses by the sea.
10. After Mint! Does your musical style influence your underwear?
I wish it did. Unfortunately my underwear is chosen on a budgetary basis!
—
More info www.wearefrightenedrabbit.com
—